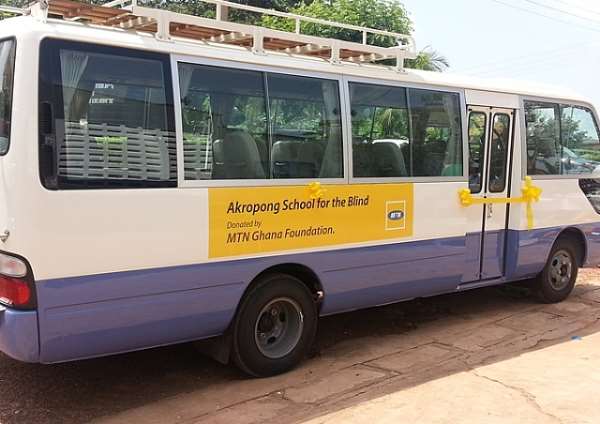 MTN, the leader in Ghana's telecommunications industry, through the MTN Ghana Foundation has construct a 20-seater ICT Centre for the Akropong School for the Blind. The MTN Foundation also presented a 33 seater bus to the school.
The 20 seater ICT centre, was constructed at the cost of GH¢130,000.00 and the 33 seater bus procured at the cost of GH¢86,000.00.
The bus is expected to help alleviate the transportation challenges faced by the school especially when the students have to travel outside the town. The ICT Centre will serve as a computer training centre for more than 500 students of AkropongSchool for the Blind.
The support will equip the visually impaired students with ICT skills and help them improve their academic work.
The MTN Ghana Foundation made a commitment to the school to provide a one-storey boys' dormitory, a 20-seater ICT center and a 33-seater bus over a three-year period at a total cost of GH¢566,000.
In March 2012, MTN Ghana Foundation commissioned and handed over to the school's authorities the boys' dormitory building, comprising 16 rooms and an office. The dormitory project is currently accommodating about 200 students.
Handing over the facilities to the school at the school's maiden  Speech and Prize Giving Day,Mrs Cynthia Lumor, Executive Director of MTN Ghana Foundation said"ICT has become the driving force for development and innovation across the globe and it is critical for students including visually impaired students to have access and use it to support their studies".
The head teacher of Akropong School for the Blind, Madam MahelaNarh, on behalf of the management of the school, thanked MTN for the numerous supportsgiven to them over the years.
After cutting the tape to commission the ICT centre, the guest of honour for the occasion Mrs Lordina Mahama, First Lady of the Republic of Ghana also commended MTN for the great initiative.
Dignitaries present at the ceremony included Prince Kofi Amoabeng of UT Group, Chairman for the ceremony, Eastern Regional Minister HellenAdoaNtoso and MCE for Akuapim North Mr. Opare Addo.
The MTN Foundation, has invested over GH¢13 million in various community development projects in the areas of health, education and economic empowerment. Since its inception in November 2007, the MTN Ghana Foundation has implemented more than 50 educational projects including 17 school blocks and 22 ICT centres, of which 10 were built in collaboration with the UNDP and 30 Health projects.
MTN Foundation will continue to invest in these interventions to support and promote gains in capacity building, greater flexibility and efficiencies for learning among teachers and students so that the general quality of education improves.