Ursula sympathises with Victoria Hammah but…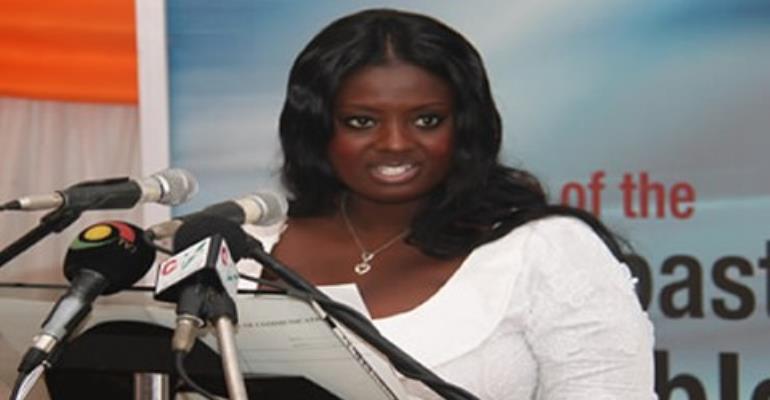 The Member of Parliament for Ablekuma West, Mrs Ursula Owusu-Akuffo has questioned the speed at which Victoria Hammah was relieved of her post as deputy Communications Minister.
The dismissed minister is at the centre of a leaked tape where he raised a number of allegations including his intention to make $1 million as a politician, how the election petition ruling was influenced by a minister of state as well as using tongue-lashing words against her colleague deputy minister.
She was subsequently sacked by the president in a statement issued by Minister of Information and Media Relations, Mahama Ayariga on Friday.
But Mrs Owusu-Akuffo who sought to play the gender card on MultiTV/Joy FM's news analysis programme, Newsfile, Saturday, is asking whether the swift action taken by the presidency could be because she is a female.
The letter relieving her of her post did not state reasons for her dismissal.
But Ursula Owusu-Akuffo analysed: "We've had lots and lots of tapes out there in the public domain and no action has been taken about them so the question that I want to throw out there for us to consider is: why this instant action by government on this particular matter?
"Is it because the allegations made or the information provided cut too close to home so it's an attempt to distant government quickly from this lady? Is there a gender angle in there?
"Why this near instantaneous reaction when there have been tapes out there including even more, in my opinion, serious ones about how party functionaries are able to influence the security apparatus and all that, and that's gone unanswered: it is just been wished away - the Boateng Gyan tape".
The people of Ablekuma West constituency in Accra rejected Ms Victoria Hammah in the 2012 parliamentary election when she competed against Ursula.
Nonetheless, the Member of Parliament was curious whether Hammah was given a deputy ministerial appointment due to her physical looks.
In the leaked tape, she was heard referring to her colleague as ugly and touted how "solid" her (Hammah's) appointment was even though she lost her election. She also advised another colleague against being swayed by her beauty into thinking that she cannot be replaced when there are other equally beautiful women in the party.
Mrs Owusu-Akuffo wondered: "She is talking about beauty and hips as criteria for appointment and I ask myself where that is getting us as a country? If she says that there are people who are more beautiful than you, who didn't get appointment and they are all waiting in the sidelines, is that what people should be looking at? Is that what gave her, her position? - beauty and hips?"
The MP counselled that "when we are putting people in positions of authority, we need to look at their experience, demonstrable competence, proven track record, not just the one who shouts loudest or insults most or most obnoxious in your face".
 
She added, "This excessive reliance on patronage and whom you know, the established linkages, those who supported us and all that, at the expense of merit, competence, proven track record, demonstrated competence; that is partly the bane of the kind of leadership that we have and may not be limited to just this group alone but you can't also say that you will not look at those who supported you but there must be some balance so that you would have people who will really be there to do the work instead of those that you are rewarding for service rendered in the past."
  Story by Ghana |Myjoyonline.com | Isaac Essel | [email protected]