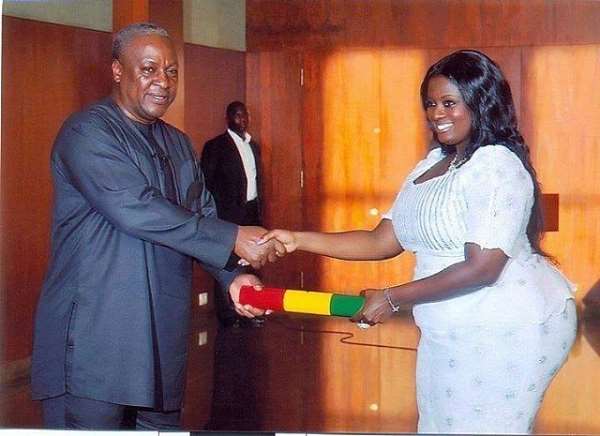 Last week I thought things were going to get boring, and I underestimated the Ghanaian politician's penchant to develop juicy stories. I never really thought of Victoria Hammah as a political force and frankly the only image I have of her is the similarity of her backside to first lady Lordina Mahama. In this regard, JDM has not failed in his consistency to showcase an African landmark to the world and has opened a new criterion for ministerial selection, exploited by Vicky's NPP election rival Ursula Owusu. Vicky Hammah once was a presenter on Multi TV and she says so herself, it was a tough challenge.
The news of her dismissal created a mass of media and political scrambling, proportional to advance and rearguard tactics. Vicky's intelligence is not a light boast. She clearly knows what this politics is all about and the speed of her dismissal promptly shuts her door but puts a slack mouth in the open. Government tacitly accepted some accuracy in her statements when she was terminated within hours after the tape went viral. Even the BBC, bless their hearts, carried the story. But will she holler further? Is her head smart enough to filter through the mess she is in? A ruined political carrier? The conversation was innocuous enough, more gossip about Nana Oye and Rachel Appoh and her boss Omane Boamah to some extent, but it was the little tsunamis that must have made the dismissal.
Government gave no reasons for ditching her; shedding the load with such haste you cannot ignore the happenstance. What other reason would President Mahama have for removing her as Deputy Minister? She has spoken out a few times in the past, but that never cost her the job. This time she gaffed.
But listen to the tape carefully and read the transcription on Peacefm. The conversation was predominantly about the idiocy of deputy minister Rachel Appoh and the power of Nana Oye Lithur and the Lithur empire. But she did speak a few truths as Ghanaians know it. You enter politics in this country as a get rich quick path. If you keep your proportions right, you can make it with "yes sah, yes sah"
So where do the coincidences end? Tony Lithur goes a long way back with NDC and now John Mahama. How far can conspiracy theory stretch? If his wife Nana Oye was instrumental in any way in the outcome of the Election petition, we have a major development on our hands. The part of the tape that brings this up is very astute. "VIC: Tony Lithur has been the friend of the Rawlingses, been a friend to the President John, now and his wife. I learnt even before even the verdict, Nana was with the Justices and all that. You don't know the role she has played for us to win the court case. Then, you want to use your unintelligence to overthrow her. Yeah." That is what she had to say as per the translated version of the tape.
But Media Relations spinner for the NDC Mahama Ayariga says Vicky lied through her teeth. Really?
Her cousin/driver was arrested, granted police bail and detained under house arrest by his own family (his own words on radio XYZ). Sunday, he retracted that statement, said it was made under duress, so we are yet to find out who actually set this up.
Could Abuga Pele, another wild cannon in the making have had a hand in it? Boy, I can create some conspiracies with this. He needs a diversion from the GYEEDA mess, in which he is set to be the main fall guy. Already he has had his fair share of attention and denied ever signing off cheques as accused. I understand the Economic and Organized Crime Office (EOCO) has had a chat with him and he has been advised "don't leave town".
But profiting from politics? We did not know that politicking is a route to quick riches? Vicky just showed us how. She is a pretty lady, buxom and "backsome". Certainly deserves to be ministered, reminds me a bit of Bishop Duncan Williams' Lady Rosa. There is a similarity isn't there? Or am I stretching this a bit too far?
There is nothing witty in a description "Vikileaks". Actually it is so passé and so easy to coin I wonder why the journalist fraternity are even clamoring to use the label. When we have such major stories, it helps if we do our own labeling and provide something more authentic and local.
Nana Oye Lithur in the fingered role as a go-between for the judges and NDC, throws up wakye with talia topping, served liberally on the court benches. The conspiracy is so chunky you can hardly ignore it.
But is the fact that Vicky was in a private conversation adequate cover to protect what she knows?
The NPP have decided to backdoor this election decision with an appeal to the Chief Justice. Former CHRAJ boss Emile Short (can we bring him back? Lorretta Lamptey is of no consequence after she fought her Board Fees at GCB and lost) says this thing needs looking into. How many of us in Ghana did believe the NDC won the election fair and square? Apart from the nearly five million NPP party stalwarts, I think a majority of Ghanaians throughout the hearing realized that there could be major reasons and credible ones too for the challenge. That we could not move Justice Atuguba (I think he alone decided the case in the end) changed the course of history for us. But now could there be another opening for the anesthetized NPP? The most significant party move since the petition thumped them has been the Congress rules for electing party executives. Danquah Institute Executive Director Gabby Asare Otchere Darko has taken a sabbatical, Nana himself has uncleverly sojourned somewhere and party Indians amble aimlessly in a puddle of political silt; and Alan Kyeremanten is growing wings again after the drumming he got from Nana at the last NPP Presidential selection.
But could it be the NPP are building a deeper strategy than we realize? Could it be the situation is so hopeless it is best to just sit and let the NDC hang itself?
I heard some strange stuff from Minister Omane Boamah during parliamentary debate on a facility waiting for approval for the Chinese Company Sinopec, regarding the Gas processing Plant. A contract that was so badly structured it would expose the country to much risk, he argued that it be passed and later fixed. Boy! This is how we do it?
The original date for completion of the gas plant was December 2012. We moved it to December 2013 and then to April 2014 and now our president, visiting the site this week, noncommittally hinted, in his usual way, that it could be mid-next year before the plant is ready. Of course endorsed by Ghana Gas executives and Board Chair, I say wait till end of 2014. We don't deliver on time in Ghana and even Christian fasting and prayers don't seem to sway the Almighty anymore.
I have heard many Christians say they are still praying to their God, he is not asleep, watching the righteous' needs and answering their requests in his own time unbeknownst to prayer warriors, who have lost touch with God directives.
Christians and Moslems form the majority in this country. Vicky Hammah is a Christian, not sure if she still is after being deprived of her opportunity to make a million dollars (she still quotes in US$ despite Bank of Ghana directives) by the stroke of a Presidential pen, an example of Christian principles not practiced as laid in the gospel; and how many more of the seventy percent Christians inhabit her mindset?
Doesn't it stand proof that if the majority of the country is so religious and the majority of the citizens are so corrupt, then ergo …. ? Is religion not our blight? Or mayhap the five percent no-religion group is just so determined to ruin this country?
I heard Otumfuo Osei Tutu II putting in his two-pesewa worth on single spine. He has some very valid statements on the due diligence, the planning and short sightedness of Government, but I am not so sure he should bother with all that. Purpose has been sidetracked and right now we have many largely looming issues to deal with. Otumfuo, can you please focus on the possible corruption of the Supreme Court in the election petition? I would have thought that since someone tried to tag you with a bribery scandal, you should really get anxious and add your voice to the probity matter. A "hammah-head" has created an opening for ultimate vindication and I see how you can wade into the fray without too much criticism.
My Mother turns 88 come Monday. Happy Birthday to my biggest fan and the largest single-opposition leader to corrupt Government. After this many years, history trumps all spins and spans and a critical memory of all events political is unbeatable. From Nkrumah to Mahama she has lived to see it all. That I should be so lucky.
Pharoahs on the 19th. Here come the goals, one from Hammah's header. Soon to be lost and forgotten, we will be in another saga and heading for Brasilia when Vicky resurfaces.
Ghana, Aha a ye de papa. Alius valde week advenio. Another great week to come!