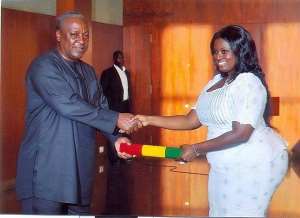 In recent days stories of Victoria Hammah – Deputy Minister for Communication – have gone wild in the Ghanaian media. But this particular one – the so called Vickyleaks – has got me thinking. Many a people have un-hesitantly scolded the disgraced deputy minister and others have rubbed their hands in glee beholding her downfall.
I must say that at first, I was like many people, happy to see the back of the deputy minister because I did not believe she is ready for the role and her media gaffes are symptomatic of that unpreparedness. In fact, she confesses herself that she is not intelligent (or at least, she is perceived as so).
However, the more I read, listen and think about the leaked tapes the more I find myself sympathetic of her not to condone the unpardonable comments she made, but concerning the manner in which this information came to light. Yes I totally agree that she was wrong in saying the things she said nevertheless, one major ethical question keeps bothering me and it is this, does she need to be taped in this way?
In other words does the end justify the means? I am afraid despite how much one may want to loathe careless Victoria, she still does not deserve to be bugged the way she has been and the thought of this becoming a precedent frankly frightens me. The deputy minister was in her car! An individual's car is one of the places one is expected to have privacy. A place where one can talk freely without the fear of being tapped or being heard by any unwanted ears. If this conversation had taken place in a public or commercial vehicle I would not have bothered.
If it had taken place in the back corridors of a dinner place or the like I would not have had any concerns at all. If Victoria had been caught saying these at a public speaking function because she had forgotten that her microphone is not switched off again I would not worry. But none of these was the case and I repeat, she was in her car! So I pose the question once more does the end justify the means? I would say NO.
To answer yes would mean it is okay for the military to overthrow legally elected governments they don't like in a coup d'état. To say yes will mean an armed robber can attacked traders he believes are making un-acceptable profit. To say yes is to mean that if a judge believes that by taking bribes there will be 'peace' he or she should go ahead and collect bribes. America says they want to protect their citizens from terror attacks; they tapped people's telephone conversations including Angela Merkel – a head of state of an ally country! Where is ethics in all these?
For a minister's driver to bug in her this way is unethical and Ghanaians must condemn it. It could happen to everyone: your brother, wife, close confidant, secretary, children are supposed to be what they are not spies. The spying jobs should be left for detectives, criminal investigators and investigative journalist. Victoria does not deserve this – the end does not justify the means.