Frytol Names Star Challenge Winner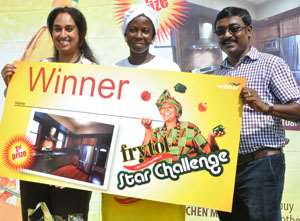 Comfort Ocran (middle) receive her prize from officials of Wilmar Africa
The final cooking contest was held at the premises of the Ebenezer Presbyterian Church in Osu, Accra on Thursday as part of the Frytol Star Challenge promotion, which has been running since August 2013.
The competitors were selected after several grueling regional competitions that involved mini-cooking competitions, quizzes, and draws.
Comfort Ocran scored high on the cards of the three judges, garnering points especially for the excellent dish and the final presentation of her meal. She was offered a complete make-over of her kitchen.
Contestants were given surprise ingredients with which they cooked meals within an hour and half.
Gladys Ankomah finished in second place, as Greater Accra representatives won several prizes.
She took home a double-door fridge for her efforts, while Mary Arthur from the Ashanti region, who placed third, won a dinning set from Wilmar Limited.
Speaking to the press after the announcement, the excited Comfort Ocran said, 'I am very delighted at my success this afternoon. I feel like I am the unofficial best cook in Ghana. Thanks to Frytol, my kitchen is going to be overhauled and I can now enjoy my cooking experience.'
The campaign was to promote the preparation of Ghanaian dishes and also reward consumers of Frytol cooking oil within the Greater, Ashanti and Western regions of Ghana.
Ahead of the final, the contestants dined with the management of Wilmar Ghana Limited and were taken on a tour of Wilmar's state-of-the-art factory located in the Tema Harbour enclave on Wednesday October 30.
Wilmar Africa Limited is a subsidiary of the renowned Asian Conglomerate Wilmar International, which is listed on the Singapore Stock Exchange.
With existing operations in Uganda, South Africa and Cote D'Ivoire, Wilmar International decided to increase its African footprint by establishing production outfits in Ghana and Nigeria.