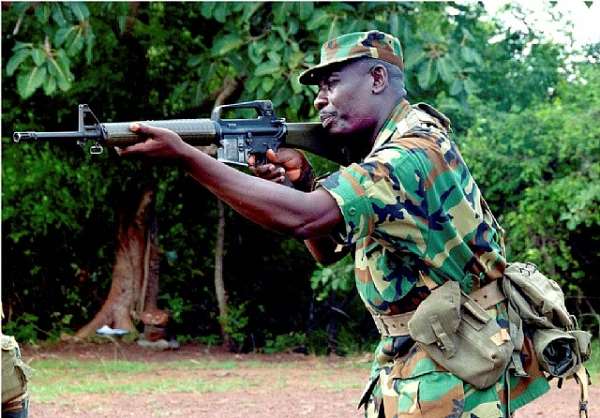 GH Soldier
Prampram (GAR), Oct. 12, GNA - The Ghana Armed Forces on Friday held its annual Land Combat Power Demonstration Exercise at the Bundase Training Camp in Prampram.
The exercise was to test the aggressive fire power readiness of the GAF and sharpen the skills of the troops in weapon handling and techniques and also build synergy and cohesion among troops of the various services.
Colonel Samson Adeti, Acting General Officer Commanding the Southern Command, commended the troops for exhibiting true professionalism during the exercise and urged them to continue to lift high the flag of GAF.
He said the exercise was to test the skills of its personnel in providing adequate security both internally and internationally.
Col Adeti noted that, the exercise would also serve as training for the newly enrolled student officers of the Ghana Armed Forces Command and Staff College (GAFCSC) and expose them to the numerous war techniques and planning skills.
Present at the event were Ebenezer Okletey Teye Larbi, Deputy Minister of Defense and some other senior officers from the Navy and the Air Force.
Others include students of GAFCSC Course 33, made up of students from Ghana, Nigeria, Togo, Mali, Cote d'lvoire and Sierra Leone.
GNA