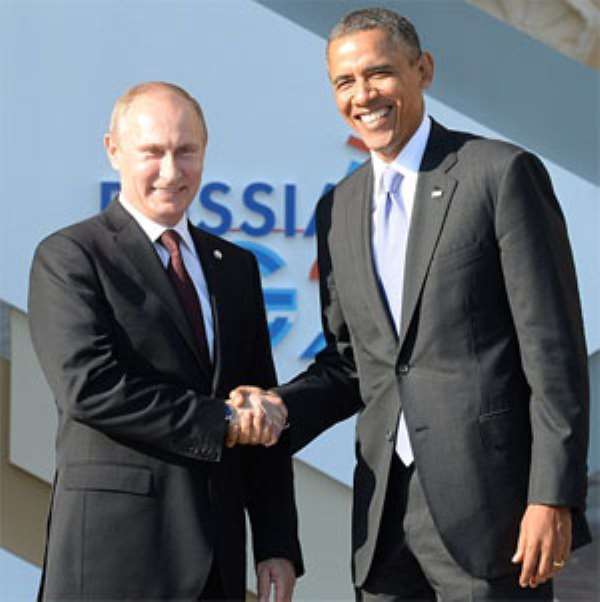 President Vladimir Putin and Presidents Barack Obama in a handshake
U.S. diplomats are secretly talking with their Russian counterparts behind the scenes at the G-20 summit in St. Petersburg in hopes of avoiding a stalemate over Syria, while Presidents Barack Obama and Vladimir Putin show their stoic game faces in public.
But a U.S. official attached to the United Nations delegation told MailOnline that while Obama's admission on Wednesday that U.S.-Russia relations have 'hit a wall,' the president's team is overreaching with an ambitious proposal that has no chance of success.
The talks started last week and are continuing both in Russia and New York, said the source, who spoke on condition of anonymity because he is not authorized to speak publicly about bilateral diplomatic talks.
He explained that Russia is insisting that Obama call off a planned military strike against Syria if either house of Congress declines to authorize it.
http://www.dailyguideghana.com/wp-content/uploads/2013/09/putin_obama_2.jpg Meanwhile, U.S. diplomats are insisting that the Russians bend in the opposite direction. They want Putin's government to entertain seriously a proposal from Saudi Arabia, which would require them to refrain from opposing UN Security Council resolutions pertaining to Syria and wind down its arms sales to Bashar al-Assad's regime.
'The Russians are playing hardball,' the source said, 'and no one really knows right now if we can bend them.'
The State Department did not immediately respond to a request for comment, but a second source at the UN said on background that talks are ongoing, and that the United States wants Russia to abstain from any Security Council votes condemning Syria.
Putin said Wednesday that his government 'doesn't exclude' going along with a UN resolution, but he is relying on its Security Council veto as a cudgel to attack the U.S.
The Russian president, a long-time ally of the Syrian dictator, said he could authorize his UN representative to support a resolution responding to the Syrian sarin gas attack on August 21 if the Security Council is provided with 'evidence that would be obvious and prove beyond doubt who did it'. But he said that a US strike in the absence of Security Council approval would amount to an unprovoked invasion.
'Anything outside the framework of the UN Security Council is aggression, other than self-defense,' Putin said at the Kremlin. 'What Congress and the Senate are doing now is essentially legitimizing aggression. This is unacceptable.'
Dailymail