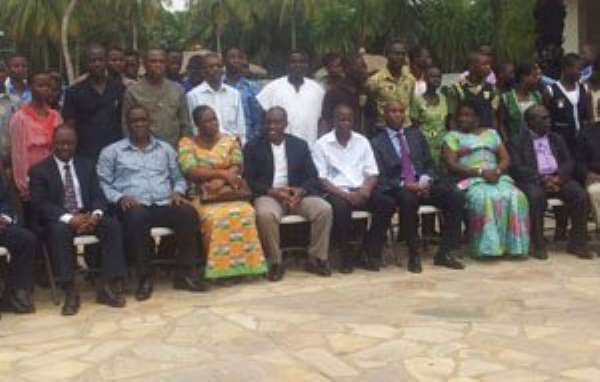 The awardees and some dignitaries at the ceremoney
The Volta River Authority (VRA), under its Community Development Programme, has awarded scholarships to 60 needy but brilliant students from communities affected by its operations.
The scholarships were offered to the students to enable them pursue Senior High School education.
Forty-six (46) students were selected from the southern sector of the Authority's operational areas and 14 from the northern sector.
Mr Isaac Aidoo, Director of Human Resource at VRA, who was speaking on behalf of the CEO during the award ceremony at Akuse in the Eastern Region, said the Authority on the occasion of its 50th anniversary, decided to introduce the scholarship award scheme to support needy but brilliant students from communities affected by their operations.
He said the support formed part of the company's corporate social responsibility and also to promote its Community Development Initiative (CDI) framework, which was aimed at empowering the communities to take action for development.
Aidoo, who was speaking on the theme: 'Creating Opportunities for the Next Generation through Education', said the scheme was initially intended as a one-off programme terminating after its first cycle of operation, but that was revised.
However, he said after VRA's development dialogue with communities and assessing its Community Development Programmes (CDP), it came out with one significant idea on how to develop the human resource of those communities through the vehicle of education.
He said the relevance of education to development was now common knowledge, adding that 'there is no development without education. Education defines the lives of our young people, and has clear economic advantages'.
Aidoo said investments in equal education access for men and women together with better healthcare and access to shelter, contribute to the quality of life, economic progress and greater citizenship participation.
He said the VRA CDP scholarship scheme seeks to provide opportunities for young men and women to maximize their potential to the full extent possible, and thus contribute to Ghana's development.
'It is worth noting other benefits, under the VRA's CDP framework document, include continued support for environmental protection programs, health, social infrastructure projects, industrial attachment and support for cultural activities,' Aidoo said.
He noted that the VRA social enhancement projects for the communities included the provision of classroom blocks, cold store faculties, potable water supply, health facilities and public places of convenience.
Others, he said, included employment opportunities for the people of host and affected communities, support for education (donation of computers and stationary materials), support for festivals and other community activities with the aim of helping communities to preserve their culture values.
'We look forward to deepening and expanding our commitment by awarding scholarships to students in tertiary institutions in the ensuing years.'
Mr Samuel Okudzeto Ablakwa, Deputy Minister of Education, in a speech read on his behalf, commended VRA for instituting educational scholarship for communities affected by its operations.
He urged the students who received the awards to study hard to justify the company's investment in their education.
 By Cephas Larbi