Faith YPG donates to Christ Faith Foster Home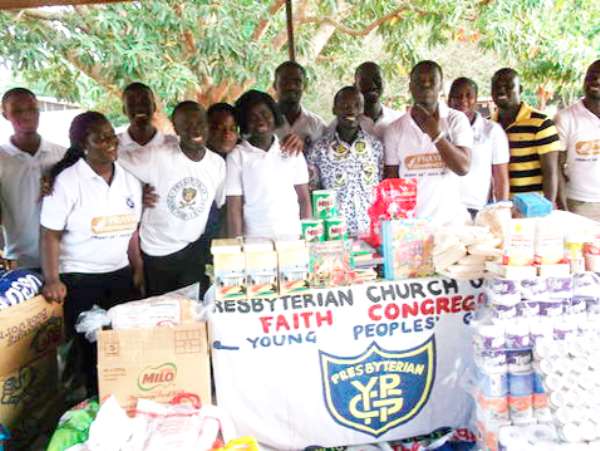 The Young People's Guild (YPG) of the Faith Presbyterian Church of Ghana in Madina Estate has donated assorted items worth GH¢1,500 to the Christ Faith Foster Home at Frafraha, near Accra.
The items included clothes, books, bibles, pens, pencils, rice, oats, sugar, Milo, oil, milk, detergents and sanitary wears.
The donation formed part of the guild's 15th anniversary celebration.
Presenting the items, the outgoing President, Mrs Gloria Koryoe Lakwor Obeng-Benefo, said the donation was fulfilling what the Holy Scriptures said in James 2:14-18: "What good is it, my brothers, if someone says he has faith but does not have works? Can that faith save him? If a brother or sister is poorly clothed and lacking in daily food, and one of you says to them, Go in peace, be warmed and filled,  without giving them the things needed for the body, what good is that? So also faith by itself, if it does not have works, is dead. But someone will say, You have faith and I have works. Show me your faith apart from your works, and I will show you my faith by my works."
Mrs Obeng-Benefo pledged the guild's continuous support for the orphanage to enable the children to realise their full potential.
Receiving the items on behalf of the orphanage, which was formerly known as the Frafraha Children's Home, Madam Harrietta Boakye, a co-ordinator at the home, expressed gratitude to the guild for the donation. She also made a passionate appeal to the general public to support the home.
The delegation that visited the orphanage included the outgoing President, Mrs Obeng-Benefo; incoming President, Mark Tieko Koranteng; Committee Organiser, Kwesi Osei Baafi and other members of the guild.
The guild was also supported by the Ghana Book Trust and Skyline Guest House.