The Togolese Woman, Anita De Souza (NDC) Insults Ghanaian Women In Diaspora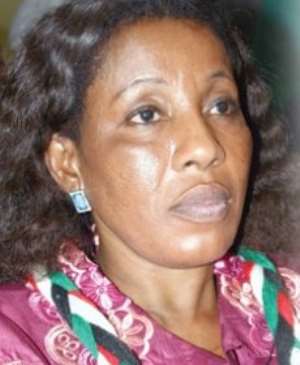 NDC Women's Organizer, Anita De Souza
An abject, facetious and disparaging remarks has been made by the Togolese woman serving as a National Women Organiser in the National Democratic Congress. According to the Monday (19 April 2013) edition of "Edwa So Nsem" program aired on Adom FM. During broadcast, Anita De Souza described Ghanaian women in diaspora as "unemployed bandits'" who had nothing better doing than to "breed like pigs and grass cutters".
The woman from Togo in the NDC government has made a very aching, reckless and irresponsible pronouncements as a national executive member of the NDC political party, this sort of contumacious statement is not only a primitive way to reprove Ghanaian women in diaspora but antagonising and effrontery and should not be entertained in any case by all Ghanaian people irrespective of where they are living and their political parties.
The most annoying part is that Anita De Souza is said to be an organiser whose duty is to mobilise women in support of her (NDC) party, but what is she doing there! She is demobilising, deforming and defaming women. She has Indeed totally failed to exhibit aristocracy and civilised deputation towards her fellow women and her NDC party in which she is expected to act as an expedient figure.
It is rather unfortunate that Anita De Souza, the woman from Togo is enjoying from the hard work of the Ghanaian women in the diaspora who are diligent, decent and responsible people generously contributing in various ways to the (Ghana) national development and infrastructure efforts. Ghanaian women population in the diaspora supports not only the Ghanaian government but also their families with constant remittances, they also create job opportunities for a huge number of Ghanaian people. They shower Ghana with foreign currency.
She has forgotten that our women over here in diaspora are heavily contributing to Ghana's Socio-economic enhancement and must be recognised and appreciated instead of Anita De Souza, a Togolese woman who is enjoying the fruit of the Ghanaian women in diaspora in Ghana trading in invectives against them.
This is a crystal clear acrimony that Anita De Souza, the so-called NDC Women Organiser has displayed her ignorance and misjudgement, not to talk of her affronting and primitive attacks on our women in dispora, which is a reflection of the deep hatred the NDC as a party is antagonising against Ghanaians living abroad.
I hope Anita De Souza has no children! If yes, then I am deeply sorry for her non circumspect, bemused and anticlimax behaviour as a woman towards women.
FRANCIS TAWIAH (Duisburg - Germany)