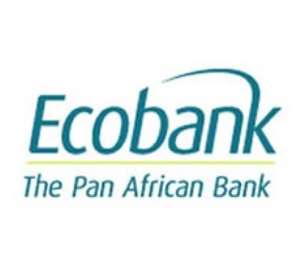 ECOBANK Ghana has given shareholder 29Gp divided for the year 2012, following a whopping76% increase in profits before tax, from GHC106million in 2011 to GHC186million last year.
The new dividend is 21% higher than that of the previous year, which stood at 24Gp. Meanwhile the company's price per share on the Ghana Stock Exchanged has increased 64% from GHC3 last year to GHC4.92 as at April 19, 2013.
While that is good news for shareholders, some of them expressed worries at the company's Annual General Meeting, that if the share price is not controlled but allowed to increase beyond a certain margin, it would be difficult for shareholders to sell when the need arises.
Chairman of the Bank's board, Lionel Van Lare Dosoo told shareholders share prices are a function of market forces so there is little the bank can do about its rising share price.
He announced that the bank pulled GHC2.46 billion in customer deposits during 2012, which was 53% higher than that of 2011, adding that its loan book also grew by 64% to GHC1.39 billion.
Meanwhile, total assets stood at GHC3.4 billion, which is 61% higher than the previous year's.
But the bank recorded a rather sharp increase in provision for credit loss from GHC6.1 million to a whooping GHC25.3 million, shooting non-performing loan ratio to 5.1%.
The Board Chair attributed the increase in non-performing loan ratio to the additional growth in the bank's SME portfolio due to acquisition of TTB a year before.
He explained that "once you merge with another institution you have to accept both the good and the bad but we are doing everything in our power to recollect those loans and reduce the credit losses."
But he was also quick to point out that the bank's 61% total asset growth could also be attributed to the TTB acquisition.
Advertisement
Meanwhile during the same period the bank was able to dole out US$200,000 to the Korle Bu Teaching Hospital for the refurbishment of the children's ward.
Mr. Dosoo said the strength of the bank lies in it networth, asset quality and strategies as well as quality of management it used to executed those strategies.
He assured shareholders of continued growth and value saying "I believe this is highly commendable and I assure you, fellow shareholders, we will continue to deliver enhanced value to you, and we believe that the actions we took last year have positioned the bank to do just that."
Some shareholders took turns to shower praises on the bank's directors for a sterling performance during the year under review and others called for bonus shares since the bank is doing so well.
Ecobank is currently the biggest bank in Ghana with 78 branches and about 200 ATMs and several Point of Sale Terminals. The Ecobank Group is also present in 33 African countries with 1,600 VISA, 1,151 branches, 5 international offices and it deals in 22 currencies.