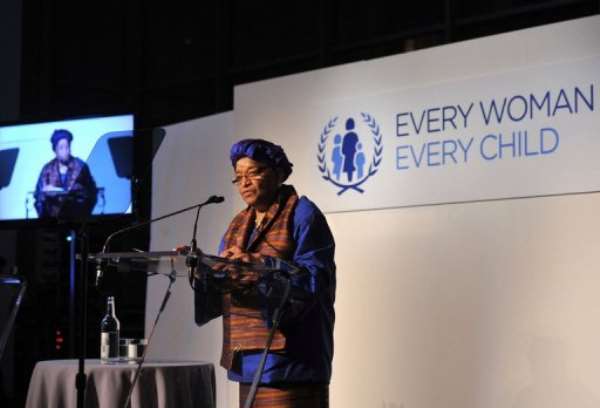 President of Liberia, Ellen Johnson Sirleaf at a United Nations dinner, September 25, 2012, New York. By Larry Busacca (Getty Images/ AFP/File)
MONROVIA (AFP) - A Liberian actor has filed a $25 million lawsuit against UNICEF for alleged child abuse over his starring role aged 13 in a fundraising film as a murderous child soldier who tortures his victims.
Mike James, now 28, says he and other cast members have been "stigmatised as rebels, killers, cannibals and drug addicts" after being recruited for the 1997 film "Soldier Boy" and made to act out eating human body parts.
In a writ filed in a west African human rights court earlier this month, James says he was paid $300 by a Danish production team hired by UNICEF for the docu-drama and duped into believing it would get limited distribution when in fact it went worldwide.
The UN child protection agency's Liberian office provided "active support and collaboration" to the Danish crew which recruited children from schools and orphanages to act in the short film, the writ says.
James' lawyer Syrenus Cephas told AFP on Wednesday the children were assured the film was for private viewing by potential donors but copies landed across Africa and abroad, where it was shown in cinemas and video clubs as well as private homes.
"(The) plaintiff further avers that as a result of this widespread public circulation of the film, (he) and other actors of the film were easily recognised and stigmatised as rebels, killers, cannibals and drug addicts, and prostitutes on account of the roles they had played in the said film," the writ adds.
"(The) plaintiff avers that this stigmatisation was all the more devastating for him because he had not only been made to 'kill' his own 'brother' in the film, but had been persuaded by the producers to use his actual name instead of a pseudonym in the film."
The writ was filed in the Economic Community of West African States Community Court of Justice, which usually mediates in disputes between states but has jurisdiction on alleged human rights breaches.
The film is offered for $100 in VHS and $200 in the largely obsolete Betamax format on the UNICEF video catalogue website, which says it is four minutes long.
"In Liberia, thousands of children are forced to fight as soldiers in a civil war that has been raging since 1989," the summary reads.
"This docu-drama profiles 13-year-old Mike who, when driven by the militia to join the army, tries to slip away after one bloody assault.
"But boy soldiers who have escaped are often rejected by their relatives because they have 'blood on their hands'. Until peace returns, he will have to fend for himself."
Speaking to AFP by telephone from his home in the United States, the actor said he was appalled that video copies of the film were being sold for up to $200.
"I was not given a dime of the millions that UNICEF raked in from the sales of a movie that ruined my life," he said.
UNICEF was not immediately available for comment.