An African Cardinal Could Become Next Pope—Palmer Buckle Reveals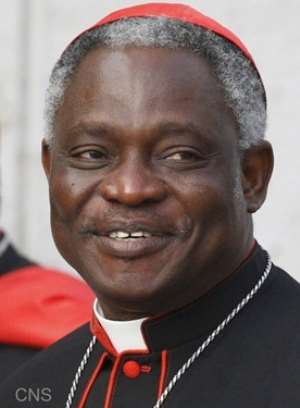 Cardinal Peter Appiah Turkson
The former spiritual head of the Roman Catholic Church, Pope Benedict has left the Vatican for his retreat at the Castle Gandolfo near Rome.
The College of Cardinals is now in charge of the world's 1.2 billion Roman Catholics until a new pope is elected.
Ghana's Cardinal Appiah Turkson is among the Cardinals who could get elected as the next Pope.
The Metropolitan Arch Bishop of Accra, Most Reverend Charles Palmar Buckle in an interview with the BBC said it shouldn't come as a surprise if an African Cardinal gets the nod.
"Out of the 119 Cardinals, 16 of them are from the North America, 11 from Africa, 11 from Asia, 23 from Italy and about 42 from various parts of Europe.
"So in the logic of probabilities the continent that has more probably could get the vote but what we believe is going to happen is that when they are praying then they themselves would know who is it.
"Who thought America is going to have a Black President but today there is a black President, so there could be a black pope, there has been already two or three African Popes so it won't be anything extraordinary," Archbishop Palmer Buckle said.