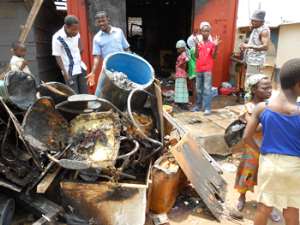 The aftermath of fire
Two persons, one of them a hairdresser, died in a fire which engulfed a metal hairdressing salon in Nima early yesterday.
According to an eyewitness, the fire was started when a gas cylinder repairer was invited to work on what was suspected to be a leakage.
After working on the leakage, the repairer was said to have lit a matchstick at a time the gas had engulfed the container and a fire was started immediately. The occupants of the container were trapped, unable to even open the sliding doors.
The name of the hairdresser was given as Georgina and she reportedly jumped into a barrel of water to escape the raging flames but that did not save her as she was consumed by the fire. As for the repairer who suffered life-threatening burns and was rushed to hospital, he succumbed to the severe burns he suffered.
'The boys in the area quickly rushed to the scene and broke down the glass door before fighting the fire because it was taking the Fire Service too long to get here,' an eyewitness told DAILY GUIDE.
By the time a fire tender arrived at the scene of the fire, the harm had already been done. The youth in the area, as narrated by an eyewitness, did the yeoman's job of bringing the fire under control.
The charred and lifeless body of the woman was rushed to the hospital where it was moved to the morgue, after being certified as dead by a medical officer.
Another eyewitness had this to say: 'We called the Fire Service several times but when they got here, we had already broken the glass and put out the fire.'
When DAILY GUIDE arrived at the scene, residents in the neighborhood were seen bringing out what was left of the burnt properties in the salon.
Efforts to reach the Public Relations Officer of the Ghana National Fire Service to comment on the incident proved futile as he was not responding to the call.
The Nima fire is one of many fire outbreaks to visit the country since the beginning of this year, a major source of worry.
While some fires have been attributed to surges in electricity, especially after power outages, others are inexplicable.
By Ogbamey Tetteh