Bishop Agyinasare arrives in Wa for a week long crusade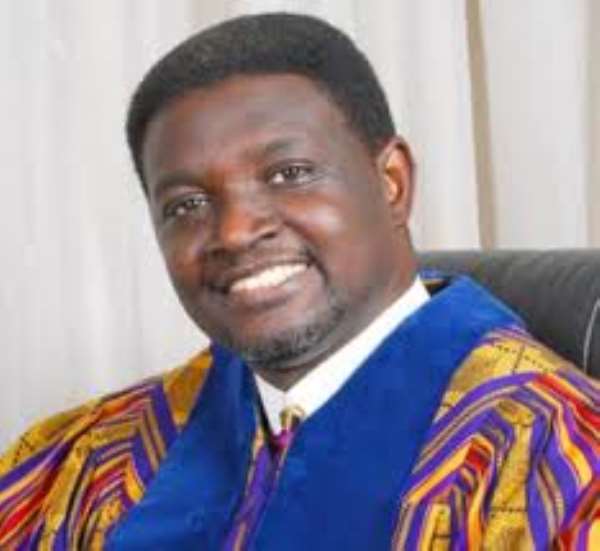 Bishop Charles Agyin Asare
Wa, Feb. 12, GNA - Bishop Charles Agyinasare, General Overseer of the Word Miracle Church International arrived in Wa on Monday for a week-long blessing and healing crusade.
The event which is to take place at the Wa Tindaanba School Park is expected to attract lots of people from across the region.
Bishop Agyinasare upon arrival paid courtesy calls on Naa Fuseini Pelpuo, the Wa Naa, at his Palace and Mr. J. B. Atugba, Upper West Regional Coordinating Director, in his office.
At the palace, the Bishop who is known for his gift of healing prayed for the Wa Naa who had been sick for some time now and was struggling to regain his speech.
He prayed to God to lift His countenance upon the ailing Wa Naa and grant him his speech and total good health to enable him to lead his people.
Bishop Agyinasare said after the prayers that he and his team of pastors visited a number of places and there were always testimonies of abundance of blessings after their visit.
The Bishop said it was the blessing of God that made a man rich and that after the crusade God was going to cause farms, marriages and businesses to thrive like never before.
The man of God also prayed to God to cause the discovery of natural mineral resources in the Region and that God should also bring to an end the CSM disease that had been troubling the people of the Region over the years.
He also prayed for unity, peace and development of the region in God's own glory.
The Wa Naa whose speech was read by one of his linguists, thanked the Bishop for his prayers and asked God to fill all the speakers at the crusade with the spirit so that they would speak His mind and not that of their own.
Mr. Atugba who welcomed the Man of God to the Region on behalf of Caretaker Regional Minister, Alhaji Amidu Sulemana said the region comprised Christians, Muslims and Traditional believers but that they had co-existed peacefully without any conflicts for the past decades.
He also thanked the Bishop and his team of pastors for traveling all the way to the region to hold the crusade and expressed the hope that God would use the crusade to heal people, bless their businesses and bring about the overall prosperity and development of the region.
GNA