Civil society encouraged to audit School Feeding Programme for transparency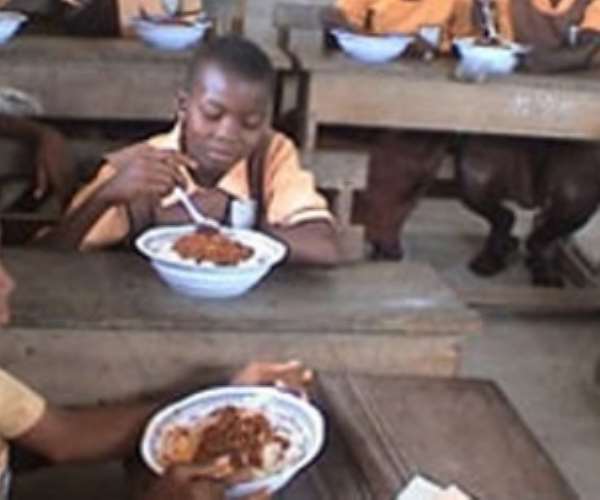 Ghana School Feeding Programme
Tamale, Feb. 06, GNA - The Netherlands Development Organization (SNV) is building the capacities of civil society and partner NGOs as part of measures to monitor the effective implementation of the Ghana School Feeding Programme.
The training is part of a four-year project to assist smallholder farmers in three African countries to supply their national School Feeding Programmes with their farm produce to enhance their income levels.
The Project known as: 'Procurement governance for home grown school feeding programmes' is being implemented in Ghana, Kenya and Mali and funded by the Bill and Melinda Gates Foundation with a 7.5 million dollars grant to support about 78,000 farmers gain access to previously denied markets, improve their livelihoods and incomes, while millions of children would receive better nutrition through their schools.
The project, which started last year, is being implemented in 20 districts on a pilot basis with the Karaga and Salaga districts in the Northern Region as part of the beneficiaries.
Mrs. FatiBoduaSeidu, Country Coordinator of the Project, explaining these in a days' workshop in Tamale on Tuesday for partner organizations said the training would equip them to sensitized community members on the need to ensure effective implementation of the School Feeding Programme.
She said the SNV Procurement Governance for Home Grown School Feeding Project proposes to develop innovative interventions to improve the performance of government-led school feeding programmes to increase benefits to smallholder farmers within four years.
Over 10,000 smallholder farmers, including at least 30 per cent women, would gain access to the Ghana School Feeding Programme (GSFP) as a market.
Mrs. Seidu said for smallholder farmers to gain access to these markets there was the need to explore feasible supply and procurement chains for the GSFP and to strengthen the linkages between the GSFP as market and caterers, processors and smallholder farmers for active participation and ownership of local institutions.
She said the interventions would be continuously linked with policy dialogue in the procurement, social and production development spheres so that they could be applied to existing school feeding programs to improve the practice of transparency and accountability at local, regional and national levels. GNA