Mornah's Case Adjourned Indefinitely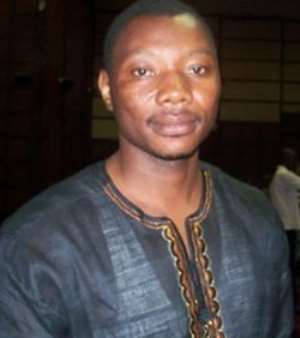 Bernard Mornah
The Supreme Court yesterday adjourned sine die (indefinitely), the case in which Bernard Mornah, general secretary of the People's National Convention (PNC), is seeking the annulment of Constitutional Instrument (C.I.) 74.
C.I. 74 is the instrument being used to regulate disputes arising out of the December 7 and 8, 2012 general elections.
The seven-member panel chaired by Justice Julius Ansah adjourned the case because Mr. Mornah, who is said to have been tipped as a deputy minister in the NDC administration, had not filed what is termed as 'Memorandum of Issues' before the sitting.
Representation
The PNC general secretary was in court with his lawyers: Benson Nutsupkui, James Agalga who won the Builsa North seat for the National Democratic Congress (NDC) and Alhaji Hudu Yahaya, a former general-secretary of the NDC.
Panel
Apart from Justice Ansah, other Justices on the panel were Sophia O. Adinyira, Rose C. Owusu, Anin-Yeboah, Sule N. Gbadegbe, Vida Akoto-Bamfo and A.A Benin.
The application was filed in late December 2012 by Raymond Atuguba, the man who was recently appointed as Executive Secretary to President John Mahama in late 2012.
The action came in the wake of the petition filed by the New Patriotic Party (NPP) presidential candidate, Nana Addo Dankwa Akufo-Addo, and two others to challenge the validity of the election of Mr. Mahama as President.
Even before the matter was determined, some conspiracy theorists began to contemplate that the PNC general-secretary's move was to 'scatter' the NPP's attempt to seek justice in the election it described as 'fixed' in favour of the President.
Mr. Mornah's suit filed on December 30, 2012 cited the Attorney-General, who was represented by Principal State Attorney Sylvester Williams, as the defendant.
Reliefs Sought
He sought declaration that 'on a true and proper interpretation of Articles 133, 157, 93(2) and 11 of the 1992 Constitution; Rule 71B, a portion of Rule 69C (5) and a portion of the Supreme Court (Amendment) Rules, 2012 (C.I. 74) are unconstitutional and must be declared null and void and of no effect'.
He also wanted 'any consequential orders' that the highest court of the land may deem fit.
Facts of the Case
In the facts of the case, the PNC general secretary averred that in early December 2012, he noticed that Rule 71B and a portion of Rule 69C (5) 'do not appear to be consistent with provisions of the 1992 Constitution'.
He said consequently, he sought legal advice and now brought the action to 'declare Rule 71B and a portion of Rule 69C (5) of C.I. 74 unconstitutional'.
The plaintiff insisted that he had the capacity to initiate the action and cited the case of 'Dr. Clement Apaak v. Electoral Commission and Attorney-General' to back his claim.
Mr. Mornah said the unconstitutionality of Rule 71B of C.I. 74 stemmed from the fact that Article 133 had come to provide 'a right to every potential and actual party to a suit in the Supreme Court to apply for a review of a decision of the Supreme Court,' adding, 'And in that regard, the party must benefit from the attention of at least seven Supreme Court judges and no less.'
'To the extent that Rule 71B of C.I. 74 seeks to extinguish the constitutional right in Article 133 of the Constitution to seek a review of a decision of the Supreme Court in Presidential election petitions, same is unconstitutional, null and void, and of no effect and the plaintiff requests this Honourable court to so declare.'
On the unconstitutionality of a part of Rule 69C (5) of C.I. 74, the PNC general secretary said, 'Given the hierarchy of norms provided for in Article 11 of the constitution, it is unconstitutional for C.I. 74, a piece of subordinate legislation, to contradict the Public Holiday Act, an act of Parliament.'
The plaintiff said, 'the Rule of Court Committee does not have the power to make rules to regulate 'practice and procedure' under Article 64 which have no effect of obviating and extinguishing a substantive rule of law on holidays in Ghana.'
'It is unconstitutional for the Rule of Court Committee to arrogate itself the power to amend Acts of Parliament. That power is reserved for Parliament by Article 93 (2) of the constitution.'
By William Yaw Owusu