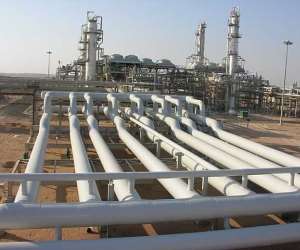 Accra, Aug 09, GNA - Editors of media houses are to attend a three-day retreat dubbed "Editors' Liaison - Strategic Overview of Global Oil and Gas Sector" at Koforidua in the Eastern Region.
The retreat from August 10 -12 is being financed by Tullow Ghana in partnership with Ghana Journalists Association (GJA) and International Institute of ICT in Journalism (Penplusbytes) to strengthen media's monitoring role over the extractive sector in Ghana.
A statement issued and copied to the Ghana News Agency in Accra on Thursday from Penplusbytes said the retreat would be attended by senior editors from print, radio and television as well as government officials, Members of Parliament and officials from the World Bank.
Other participants include oil and gas companies, leaders from Civil Society Organisations working in the oil and gas sector who would converge to deliberate on key areas such as the latest development in the extractive industry.
Topics to be treated would include strategic overview of global oil and gas sector; trends in gas development and monetisation; oil and gas exploration management - role of GNPC; evaluating fiscal regimes –oil and gas sector; Parliament's role in oil and gas revenue management, global trends, Ghana's example; oil and gas revenue management; the role of the public interest and accountability committee would be discussed at the workshop.
Highlight of the retreat would be a focus group discussion on how to stimulate oil and gas stories in the Ghanaian media and strategies for strengthening the overall capacity of the media in oil and gas reporting.
Mr Gayheart Mensah, Corporate Affairs and Investment Promotion Manager of Tullow Ghana, said "this editors' liaison forms part of Tullow Ghana's corporate responsibility to support the media to effectively inform the citizenry about the oil and gas industry".
"We believe that keeping editors abreast with our operations and that of other key players in the industry will help them play their critical role of educating Ghanaians towards national development."
Mr Ransford Tetteh, President of GJA, said "this support by Tullow Ghana in facilitating this liaison has multiple benefits for the media. It will help enhance the knowledge of the editors about the latest developments in the oil and gas sector".
Mr Tetteh said the retreat would also afford editors the opportunity to network with key industry players who would serve as sources of information and for future interactions.
He said "this retreat will serve as a platform for the media to interrogate some of the thorny issues emerging from the sector and enable us have a deeper understanding of the oil and gas industry to enrich national dialogue taking place about the sector".
Mr Kwami Ahiabenu II, Team Leader of Penplusbytes, said "the ultimate objective of this retreat is to have a knowledgeable and active media which is critical to having an informed and engaged public".
It would also help in having a civil society and Parliament that could hold companies engaged in the extractive industry and government accountable and demand impact driven developmental projects from Ghana's oil and gas revenues.
GNA