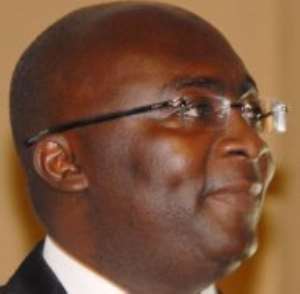 At least six hundred Ghanaians resident in Toronto and other parts of the Greater Toronto Area [GTA] are going to have the opportunity to meet and interact with the 2012 presidential running mate of the NPP, Dr. Mahamadu Bawumia.
The meeting which is scheduled to kick off at 6:00p.m July 21,2012 Canada time is to offer the residents the opportunity to have a fair idea of how the country is being governed by the incumbent government NDC as the running mate presents a situational report at the said meeting.
This was confirmed by the Toronto branch financial secretary of the NPP Mr. Kwasi Sarfo when contacted on his phone to find out whether the said meeting was coming up.
Mr.Kwesi Sarfo, hinted that right from mid-day tomorrow July 21, 2012, there is going to be a breakfast and lunch meeting between Dr. Bawumia and businessmen who will like to invest in Ghana. Then around 5:00p.m members will be heading towards the Presbyterian Church for the great occasion.
In November 2011, President John Evans Atta Mills visited Canada to be precise Ottawa, the country's capital where he met Ghanaians in a town hall meeting.
During the meeting, the president asserted that the economy was booming and that his government was in full control in ruling the country.
Eight months after the president has visited Canada and met with Ghanaians resident here, the New Patriotic Party branch in Toronto, has also succeeded in bringing in the party's 2012 running mate Dr. Mohamadu Bawumia to present the situation on the ground for members to have a fair idea as to what is going on Ghana.
The running mate should expect questions such as how is going to stabilize the cedi, fight the armed robbery, create more jobs for the unemployed youth, provide quality health care for all and possibly uproot corruption as well as reduce high import duties to encourage Ghanaians abroad to transact business in Ghana.
Stay tune for more stories from the event tomorrow.