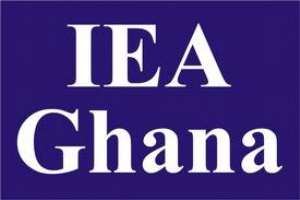 Accra, June 17, GNA – The Institute of Economic Affairs (IEA) at the weekend attributed the current high cost of living in the country in spite of the attainment of single-digit inflation rates to the long period of high inflation rates.
"This is a situation that is not going to be ameliorated anytime soon, since there is a lot of catching up to do," Dr. J. K. Kwakye, IEA Senior Economist, stated in a research document on: "Single-digit inflation and the cost of living dichotomy in Ghana," made available to the Ghana News Agency in Accra.
He said for millions of Ghanaians to benefit from single-digit inflation, Government must sustain the low rate of inflation for a considerable length of time and to have labour productivity increase sufficiently to allow significant increases in wages and salaries without stoking inflation.
"On the one hand, this requires prudent macroeconomic policies to keep demand under control. On the other hand, it calls for policies that increase the economy's growth potential to ensure adequate supply of goods and services at all times.
According to Dr Kwakye, the fact is that because Ghana has had high inflation rates for a long period of time, this has cumulatively led to a high cost of living in the country.
He said the increase in the cost of living has not been matched by corresponding increase in wages and salaries or incomes as a result, most people have become worse off in real terms.
In fact, starting from the base year of 2002 for computing the current Consumer Price Index (CPI) series, the average price index rose from 100 to 396 as of end-April 2012.
"This shows an increase of 296 per cent over a decade, which works out to an annual average increase of nearly 30 per cent. Over this period, the annual average salary increase has been much less, thereby making workers worse off in real terms.
"Since inflation was even much higher in the past, it means that over a longer period of time, the cumulative increase in the cost of living has been much higher than the corresponding increase in wages and salaries.
"The gap between incomes and the cost of living can be best illustrated with the real value (or purchasing power) of the minimum wage or with the income-poverty rate.
"The daily minimum wage is currently GH¢4.48, which works out to GH¢134 for a 30-day month. For anybody at the bottom of the pay ladder receiving this monthly income, we know from the prices of goods and services that it is not enough to pay for his basic needs like food, rent, transportation, utilities, and communications.
"He might also be paying for other goods and services like clothing, healthcare, and education. Millions of people in this country live below this income threshold either because they receive low incomes in their jobs or they may not even be employed and may be living on the charity of relatives and friends.
"Taking it from the income-poverty angle, one arrives at a similar result. It is known that millions of Ghanaians live below US 2.00 dallar a day, which is less than GH¢4.00, slightly below the daily minimum wage," he stated.
Dr Kwakye said Ghana has a long history of high rates of inflation, for decades, the country recorded double-digit inflation rates and in some cases even triple-digit rates.
He said empirical literature attributed Ghana's high rates of inflation largely to the classical explanation of supply of goods and services not keeping pace with demand.
The slow growth of supply was the result of production bottlenecks, while demand was fuelled by expansionary fiscal and monetary policies, explaining that apart from supply and demand factors, cost-related factors, particularly exchange rate depreciation and increases in petroleum and utilities prices from time to time, put additional pressure on prices.
He said during the past decade, however, inflation has been significantly reduced from 40.5 per cent in 2000 inflation has been steadily reduced to 9.1 per cent as of April 2012.
The Senior IEA Economist said the success in bringing inflation down is due to a combination of factors as Ghana has benefited from low imported inflation as global inflation has generally abated.
He said fiscally-driven demand pressures have declined in Ghana as budget deficits and associated financing have generally declined, the production and supply of food in particular, which is a major component of the CPI basket, have improved.
"Meanwhile, the exchange rate has been stable for longer periods than previously, reducing its impact on inflation. And finally, fuel and utility prices have been subjected to some degree of control, preventing their full pass-through to general prices," he said.
Inflation was reduced to single digit in June 2010, which has since been sustained. This has been helped more by much lower rates of food inflation than non-food inflation.
The former has been in low single digits since January 2010 while the latter has been in the low double-digits all the time. With the achievement of single-digit headline inflation, a debate has emerged in the country as to what extent it reflects the situation on the ground, in terms of the general cost of living. Some people have even questioned the reliability of the official inflation figures.
According to Dr Kwakye, the research seeks to throws some light on the measurement of inflation and explains why there could be a dichotomy between the statistical measure of inflation and the cost of living.
Dr Mahamudu Bawumia, New Patriotic Party (NPP) Election 2012, Running mate, recently at the fifth Ferdinand O. Ayim Memorial Lecture in Accra sparked off the single-digit inflation debate.
Speaking on the topic, "The State of our Economy," Dr Bawumia among other issues explained that: "Single digit inflation has not reflected in a reduction in the cost of living and in this regard has been rendered practically meaningless.
Ghanaians are, in fact, experiencing triple digit "inflation" in their pain and suffering," he stressed.
GNA