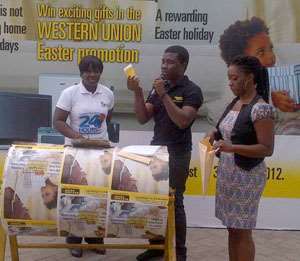 As part of Western Union's Easter Promotion launched during the Easter season, the first batch of lucky winners was on Friday 20 th April, 2012, selected from a maiden draw at the Darkuman Branch of Ecobank Ghana.
The winners won LED TV sets, home theatres, fridges, microwaves and mobile phones.
Anytime a customer receives money through Western Union from now till 30 th April, they will be required to fill out a coupon which will enter into a draw. Winners will be picked in two consecutive promotion draws.
Western Union Money Transfer, one of the leaders in global money transfer business across the globe, has over the years rewarded millions of customers with exciting promotions right here in Ghana and Africa.
Prominent among its loyalty promotions are 'The Back to School Promotion', which is geared towards supporting basic education across board, 'Western Union Loyalty Promotion' and 'The Year End Promotions' which ushers customers into the New Year with an exciting free shopping package.
The Easter Home Makeover Promotion, currently ongoing, will end on 30 th April in all the over 1200 Western Union agent locations.
In all, over 150 lucky winners will be rewarded with wonderful home appliances and mobile phones across the country.
With over 1200 agent locations in Ghana, Western Union can now be accessed at ADB, Ecobank, The Trust Bank, ARB Apex, Access Bank, NIB, Prudential Bank, Cal Bank, Fidelity Bank, Zenith Bank, GT Bank, Unibank, Merchant Bank, GCB and SGSSB.
From the business desk