Government to complete gas transmission plant early this year - Veep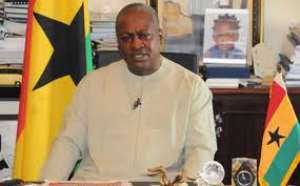 Accra, Feb 20, GNA - Vice-President, Mr John Dramani Mahama on Monday announced that government would by the end of the first quarter complete a plant to transmit gas from offshore to onshore to facilitate industrial and other activities.
He said the expected gas would be used to power the country's industrial sector and consequently propel the country's socio-economic development.
Vice President Mahama gave this assurance when, Mr Raijinder Bhagat, the Indian High Commissioner to Ghana, paid a courtesy call on him at the Castle, Osu.
Mr Bhagat, who has been on duty tour of the country two months ago, was at the Castle to affirm the commitment of India to deepening bilateral ties with Ghana and to inform the Vice-President of the readiness of their government to set up a 1.3 billion dollar fertiliser processing plant in the country.
Vice President Mahama said government would soon task the Ghana National Petroleum Company and other stakeholders in gas to fix a favourable price to pave way for the feasibility studies and the actual processing of fertiliser by the Indian investors.
"The fertiliser project will meet Ghana's demand for the product and the excess will be exported to India", he added.
Vice-President said the two countries had enjoyed strong bilateral and private sector relations and government would continue to cement those relations for future generations to come.
Mr Bhagat said India was ready with the technical plan and the funds to kick-start the project indicating that "India is only awaiting the green light from the Ghana government".
The High Commissioner pleaded with government to supply the Company with gas at subsidized rates to enable them to start operations on a sound note since that was a major component for the establishment of the plant.
Mr Bhagat said apart from the fertilizer plant Indian investors intended to revive Ghana's sugar industry by investing 36 million dollars in the establishment of a sugar processing plant, while the establishment of potato industry would also begin soon.
In a related development, the Italian Ambassador to Ghana, Mr Tullio Guma, paid a courtesy call on the Vice-President and commended Ghana for her democratic credentials and maintaining an atmosphere of peace and stability.
He affirmed the commitment of the Italian government to strengthen bilateral ties with Ghana.
Mr Sharon Bar-li, Israeli Ambassador to Ghana was also at the Castle, Osu to discuss ways of deepening bilateral relations between Ghana and Israel.
GNA