A-G ordered Woyome payment; Duffuor tells Mills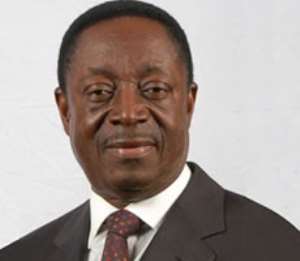 In the wake of the ongoing controversy surrounding 'the Woyome judgment debt payment saga', The New Crusading GUIDE has intercepted a document which indicates that the Ministry of Finance and Economic Planning was virtually 'pressurized' by the Attorney General (AG) in a letter dated April 29, 2010, to pay Mr. Alfred Agbesi Woyome "what was due him."
In an official letter addressed to the President through the Chief of Staff at the Osu Castle, the Finance and Economic Planning Minister, Dr. Kwabena Duffuor, mentioned that his ministry, by a letter dated April 12, 2010, asked the AG to clarify the petitioner's (Woyome's) claim of right to the amount.
Dr. Duffuor, in his letter titled: "report on payment of judgement debt to Mr. Alfred Agbesi Woyome", informed the Office of the President that "the Attorney General specifically advised that the claim for 2% of the total value of the project that Mr. Woyome and Austro-Investment engineered, which they have agreed should be paid to Mr. Woyome, was in order and thus recommended that the Ministry of Finance and Economic Planning should pay the amount due."
It will be recalled that President Mills, in an interview with an Accra-based radio station, Radio Gold on the Woyome saga, announced that he had ordered the two ministries involved - the Attorney General's Department and the Finance Ministry - to give him a report, which would be published "so that the world would know what happened."
The Finance Minister's letter (published on page 2) in response to the President's directive, went on to explain to him (President) that "as a result of this ministry's refusal to comply with the above, the Attorney General followed up with letter dated 28th may, 2010 stating that as a result of the position taken by the ministry of finance and economic planning, Mr. Woyome had gone to court and obtained judgment on 24th may in the sum of GHS 25,000.00, giving a total of GHS 51, 283,480.59."
According to the correspondence which is dated January 6, 2012, the Minister, among other things, recalled that his Ministry went ahead to negotiate with solicitors of Mr. Woyome to pay the money in three equal installments.
"Even as the Ministry was in the process of paying the first installment as agreed during the first week in July, 2010, the Attorney General surprisingly went to court for a stay of execution which was refused on 9th July, 2010," the Minister submitted in his letter - which was also copied to the Vice President, John Dramani Mahama.
Meanwhile, a copy of the said AG's letter which directed the Finance Ministry to make the payment partly reads, "it will be recalled that the claim is for project financial engineering fees by Mr. Woyome and Austro-Invest. The financial arrangements were made in respect of the concurrent approval given by the central review board for the award of contract to Vamed Engineering, who transferred its rights in the project to waterville holdings (copies of letter of transfer and acceptance attached) and (copy of letter of central tender review board dated 5th august 2005 attached). It was in these circumstances that the then government terminated the entire process."
The AG, in his letter which is also available to this paper said, "it is my opinion that this letter dated 5th August 2005 formed the basis of a binding agreement between Vamed and the government of Ghana and the process having been terminated wrongfully by the government, the claimants were entitled to compensation for services rendered."