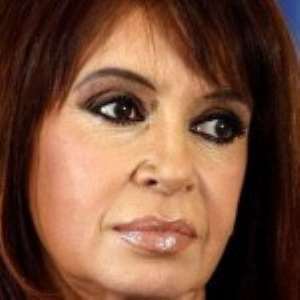 Making her first public appearance after undergoing surgery, Cristina Fernandez de Kirchner branded David Cameron's comment "nonsense".
A surgery scar was visible on her throat as she spoke at government headquarters in Buenos Aires. This April marks 30 years since the start of the Falklands War.
"They are trying to paint us as bad guys, or violent guys and really, that is not who we are," Mrs Fernandez told a packed auditorium after 20 days of medical leave for thyroid surgery.
Mr. Cameron outraged many in Argentina last week when he accused the country of having a "colonialist" attitude over the disputed islands.
Protesters marched on the British embassy in Buenos Aires on Friday, burning the Union flag, and demanding that diplomatic ties with London be severed.
Referring to Mr Cameron's comments, Mrs Fernandez said that people only talk nonsense when they do not have solid arguments.
Mrs. Fernandez's comments came mid-way through her remarks to supporters at the Argentine Presidential Palace.
Her remarks illustrate how potent the issue of the Falklands Islands remains across Argentine society. BBC