US professor provides training for youth in agriculture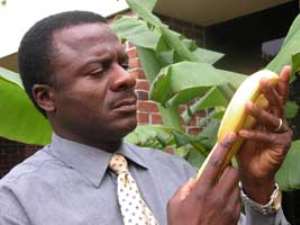 Ejisu (Ash), Nov. 30, GNA – Prof Greg Funsah of the University of Georgia in the United States, has provided training for the youth in agriculture to add value to their produce to enhance marketability and profitability.
Prof Funsah, who was speaking as a guest speaker at a three-day capacity building youth camp on climate change adaptation at Kumasi Institute of Tropical Agric (KITA), said the youth in Ghana are capable of contributing largely to food security hence the need to be trained in adding value to their produce.
He said; "It is important for the farmers to develop skills in farm diversification, agro-processing and farm record keeping in order to be able to improve the farming industry in Ghana," he said.
The training brought together participants from tertiary youth leaders, farmers' associations, university and Kwadaso Agricultural College students and formed part of the Ecological Week celebration of KITA in the Ashanti Region.
The theme of the capacity building: " Building Resilience through Advocacy, Agro-Forestry, Permaculture and Ecovillage Strategies."
The programme which was aimed at empowering youth leaders in agriculture with a sandwich set of global strategies to help farmers to build resilience and adapt to climate change, was also to promote peace building and sustainable living.
Mr Lovans Owusu-Takyi, Executive Director of YVE, said climate change has had devastating impact on livelihoods of small scale farmers and communities in Ghana.
He said the most vulnerable group were the youth in agriculture who contributed the largest to food security and the national gross domestic product.
"Irregular rainfall pattern, over-flooding, low soil fertility and crop yield, conflicts over land resources are some of the problems hampering the development of small-scale agriculture and a threat to peace in Ghana," he noted.
Participants were trained in climate change advocacy and policy issues, agro-forestry, nursery establishment, tree planting, agricultural business strategies, renewal energy, solar and fuel efficient stoves.
GNA