Emirates Skycargo bolsters trade route in Africa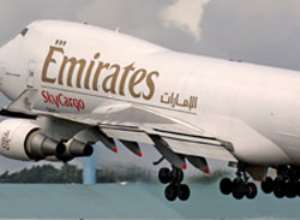 Emirates Skycargo, the freight division of Emirates, the Dubai-based international airline, has launched a new service on the burgeoning UAE-Africa trade route.
A Boeing 747-400F-with a capacity of 117 tonnes will operate every Friday between Dubai and Ghana, in support of the thriving import and export industry generated by one of the world's fast growing economies.
'Ghana is booming at the moment exporting items such as oil and gas equipment, pineapples, mangoes, various types of vegetables, fresh fish and lobsters so, strengthening our commitment to West Africa with the introduction of this weekly freighter makes great business sense', the Emirates' SVP Cargo Planning & Freighters, Hiran Perera noted.
According to Perera, Ghana is rich in natural resources and recognised as one of Africa's leading economies. This economic strengthen means it will play a pivotal role in the future development of Africa, making it an important trade route with tremendous scope of growth.
Emirates have been operating a passenger service to Accra, with a weekly capacity of 120 tonnes each way in the belly-hold of an Airbus A330-200, since 2004. The new service to Kotoka International Airport, which started on November 11th, 2011 will operate via Lome, Togo, on the outbound journey and return to Dubai through Frankfurt, Germany.
Management of the company says goods from Ghana will be distributed from Dubai to locations across the Middle East, Europe, the Far East and the United States.
Goods going into Ghana include electrical equipment, clothing and mobile phones from Far East and pharmaceuticals from Europe. The freight from Frankfurt to Dubai will include car parts, machinery and a diverse range of general merchandise.
The Emirates' SVP Cargo Planning & Freighters was quick to add that: 'Africa is a key market for Emirates Skycargo.
We already operate to 20 locations and with Harare and Lusaka set to join our network in February 2012, we look to contributing to its continued economic development by facilitating more international trade between the continent and our ever-expanding network of more than 110 destinations.