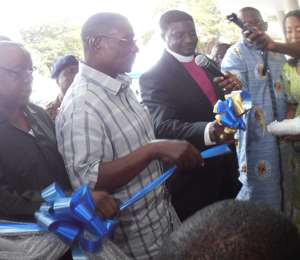 : President Mills cutting tape to officially open the NHIA building
PRESIDENT JOHN Evans Atta Mills yesterday conceded that the National Health Insurance Scheme (NHIS) is fraught with corruption and therefore needed immediate attention.
Making this known at the commissioning of a new head office building for the National Health Insurance Authority (NHIA) in Accra, he noted: 'I am happy that measures are being taken to address the anomalies, the corruption, the stealing, and the dishonesty that have characterized this system for quite some time'.
According to him, the NHIS, over the years, had faced some challenges, but added that his administration was 'finding ways and means of confronting and overcoming them'.
He continued that the board chairman could attest to the trend since even 'his own constituents are complaining about it.'
According to President Mills, government's major objective was to ensure that no Ghanaian who fell sick went without medical treatment, adding, 'Government is there to help the underprivileged and disadvantaged, as that is what social democracy is all about'.
He furthermore pointed out that the NHIS was a vehicle to help ensure that each and every Ghanaian had access to medical treatment.
'I am happy that the NHIS has built its own buildings which will help to deliver health care in the country. However, I want to emphasise that it is not buildings which help to deliver health care but what goes on in the buildings.
'I also believe that when the initiatives that have been brought to Cabinet and forwarded to Parliament are approved, we will be able to see improvements in the NHIS system,' the president added.
Sylvester Mensah, Chief Executive, NHIS, in a welcome address, noted that the NHIS had become a significant partner in the healthcare delivery architecture in the country, which accounted for more than 80 percent of IGF in public health facilities.
'Despite our fallibility and imperfections, the NHIS has gained significant international recognition and acclaim for financial risk protection, innovation and a hub for international knowledge and experience sharing'.
He lamented that like any social protection policy, the authority's challenge had been the long-term sustainability of the scheme imposed by rapid growth in utilization, accompanied by high and rising medical inflation without a corresponding increase in inflows.
'In January last year, we instituted a clinical audit as a tool for controlling supply-side moral hazards such as wrong application of tariffs, irrational prescription of medicines, inflation of the quantities of medicines supplied, unfair co-payment, the provision of services above accreditation level and overbilling for medicines, among others'.
The Minister of Health, Yile Chireh, on his part pledged his ministry's efforts to expand the facilities to ensure that people got easy access to health facilities.
'We are also working hard to ensure that people can pay for and benefit under the scheme,' the minister noted.
According to him, his outfit was working to ensure efficiency in the management and utilization of the funds, adding that there was the need to fight corruption and fraud.
 By Stella Danso Addai