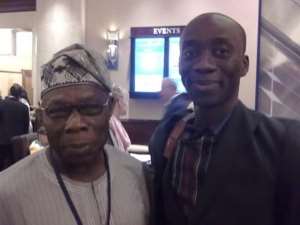 Kwaku Kyei, an international social entrepreneur and alumnus of Valley View University has been awarded the United States President's Volunteer Service Award by President Barack Obama.
He is the first Ghanaian to receive the lifetime achievement service award for his outstanding contribution in engaging the youth of the United States in mobilizing international development assistance from the US to Africa.
The Lifetime President's Call to Service Award category is the highest level of the President's Volunteer Service Award.
Kwaku has donated more than 5000 hours of his time over the last three years addressing international development issues of interest to the United States and has been personally responsible for planning, overseeing and mobilizing various international development assistance to assist in the development of needy communities in Africa.
He has distinguished himself while involved in a variety of domestic engagement activities including youth empowerment and his innovative resource mobilization in rescuing thousands of bicycles from the waste stream.
Kwaku was recognized by the White House and the President's Council on Service and Civic Participation, a group created by former President George W Bush in 2003 to recognize the valuable contributions volunteers are making to the nation.
Chaired by two-time Super Bowl Champion Darrell Green, with former U.S. Senators Bob Dole and John Glenn as honorary co-chairs, the Council comprises leaders in government, media, entertainment, business, education, nonprofits and volunteer service organizations who issued the award on behalf of the US President of the United States.
The young Ghanaian was presented with his prestigious award at a private reception held at the Clinton Global Initiative in New York, an initiative of President Clinton attended by current and former heads of state and governments, CEO's of fortune 500 companies and Global Philanthropic leaders.
''Your volunteer service demonstrates the kind of commitment to your community that moves America a step closer to its great promise'', said President Obama in a personal congratulatory message noted that ''while government can open more opportunities for us to serve our communities, it is up to each of us to seize those opportunities. Thank you for your devotion to service and for doing all you can to shape a better tomorrow for our great Nation''.
Kwaku said "I couldn't believe it when I first found out that I was receiving an award from the President of the United States". "It is a great privilege to be in America, it is an honor to be nominated for this, and it is an honor to have it presented during a gathering of world leaders and all those gurus who matters in the world."
Kwaku also said he couldn't have earned the award by himself. "There are a lot of people in my life that helped me get to where I'm at, and I feel they are the true reason why I'm standing where I'm at today," he stated.
Story by Kofi Adu Domfeh/Luv Fm/Ghana