We don't want junkies for president – Kobby Acheampong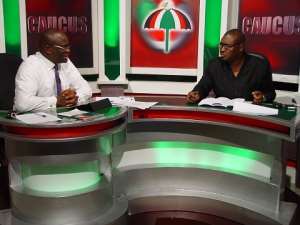 Deputy Interior Minister, Kobby Acheampong has described the flag bearer of the opposition New Patriotic Party [NPP] as a junkie who should not be given the opportunity to rule the country.
Speaking on Multi TV's political talk show, Majority Caucus, Mr. Acheampong said "Nana Addo should never rule Ghana otherwise this country will go in flames. We can never have a president who does drugs'' he stressed.
His comments came on the back of recent diplomatic cables leaked by international whistle blower website, Wikileaks which suggests that the NPP presidential candidate occasionally uses marijuana.
According to the Deputy Interior Minister, "we don't want to have junkies as Presidents, definitely not. Ghana deserves people who can stand on their feet and condemn narcotic drug usage. If you use drugs, you should not lead this country of ours. That is the bottom line because you will not serve as a good role model for the younger generation of Ghanaians.''
The Deputy Interior Minister also likened the NPP flag bearer to "Agent Orange" – a chemical used by the US Army during its war in Vietnam, saying Nana Addo has lost his sense of worth and branding.
According to him, "Nana Addo now is a very bad brand period. He's become like 'Agent Orange' – a chemical that the US Army tried to use when they were in Vietnam. It caused so many problems for the soldiers when they tried to rebrand Agent Orange again. It didn't work because people had known the attributes of Agent Orange."
Mr. Acheampong took a swipe at Nana Addo for doing nothing to stop the drug menace when he served as Attorney General under the Kuffuor administration.
"Nana Addo served as an Attorney General and Foreign Minister of this country. His voice carried a lot of weight, he could have used his position in his government to emphasise the fact that we shouldn't hand over the country to drug dealers, but he didn't" he noted.
"In fact, what was his own position when Eric Amoateng was arrested?" he asked adding that Nana Addo "was a Member of Parliament, but I am yet to hear what his stands on that issue are".
Asked about what government was doing to curb the drug menace in the country, Mr. Acheampong said "there has been a massive improvement in curbing the narcotics trade in this country since we (NDC) took over. The level of corporation with the U.S Drug Enforcement Agency has gone very high. If you look currently, we have installed at our airports, finger printing machines to help track people who use fraudulent documents in drug trafficking businesses.''
He added that the Interior Ministry is working assiduously to equip officials of the Narcotics Control Board [NARCOB] with incentives such as salary increment, upgrading of their ranking system and training programmes to make their work more effective.
"If we had finger printing technology 5 years ago, and they were never installed at the airport, that tells you the government then was not interested in pursuing some of these issues, when the financial intelligence centre asked for body scanners from the United States, they were prepared to bring them in during the NPP time, [but] it never came. We are now taking delivery of those things that should tell you that the approach is completely different and it is consistent to curbing this menace" he said.
Kobby Acheampong also accused Nana Akuffo Addo of breaching the dictates of the 1992 Constitution by accepting financial support from the Libyan Foreign Minister for his campaign ahead of the 2008 elections which have been revealed by Wikileaks.
"For anybody who wants to lead this great country of ours, you should not be a politically exposed person, if you are politically exposed then you should be politically exposed only in terms of the fact that you have a viable programme, you have a vision and you can reach out to Ghanaians in a manner that is acceptable by the constitution that we carry. But if you go taking money from places and launder it and bring them in here like that, it creates a certain problem."

Story by Etornam Tsormey/Ewurabena Yorke – Multi TV