Energy Ministry, Chinese Company Sign US$120m Accord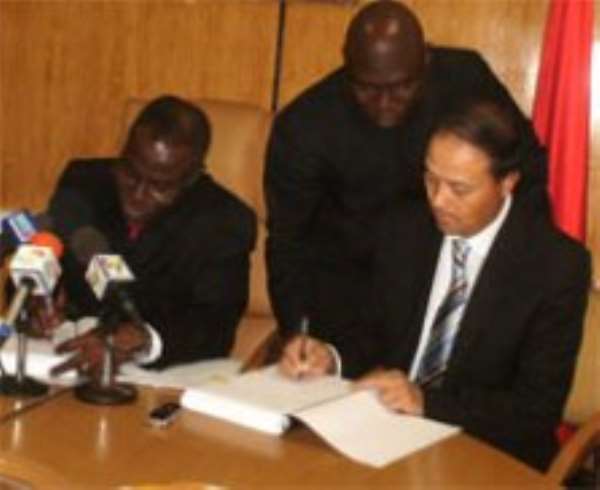 Dr Joe Oteng-Adjei (left), appending his signature to the agreement while Mr Yu Guohui (right) initials for his Group. Looking on is a Deputy Energy Minister, Alhaji Inusah Fuseini.
The Ministry of Energy and the Hunan Construction Engineering Group Corporation of China, have signed a US$120 million commercial loan agreement for the extension of electricity to 500 communities in the Northern Region.
The sector Minister, Dr Joe Oteng-Adjei, signed on behalf of the Government of Ghana (GoG) while the General Manager of the Overseas Project Department of the Group, Mr Yu Guohui, initialled for his organisation.
The Government of Ghana (GoG) is contributing US$18 million to the project.
Dr Oteng-Adjei said the execution of the project was in fulfilment of a promise President J. E. A. Mills made to the people of the Northern Region when he visited parts of the area last year on a familiarisation tour.
The project, he added, formed part of the US$300 million to be used to connect about 1,400 communities in the Northern, Upper East and Upper West regions to the national grid.
He explained that the move to improve the electricity capacity in the three regions was based on a recent assessment carried out by the ministry, which revealed that electricity coverage in those areas fell below the national average.
The Northern, Upper East and Upper West regions, with 43.52 per cent, 31.95 per cent and 30.39 per cent accessibility rates, respectively, fall below the required national average figure of 66.70 per cent.
To that end, Dr Oteng-Adjei stated that the government had resolved to raise the electricity accessibility rates of those regions to that of the national average in line with the policy of the national electrification programme which was aimed at extending electricity to all parts of the country by the year 2020.
Mr Guohui, for his part, pledged the commitment of his outfit to execute the project to the expectation of the government.
The minister used the occasion to deny reports that Ghana sold the first barrel of its petroleum products at US$67, which was far below the global market price.
He explained that Ghana was lifting oil for the first time since the discovery of the resource, and in line with standard practice, the country rather enjoyed a discount of between US$2 and US$4 on the market.