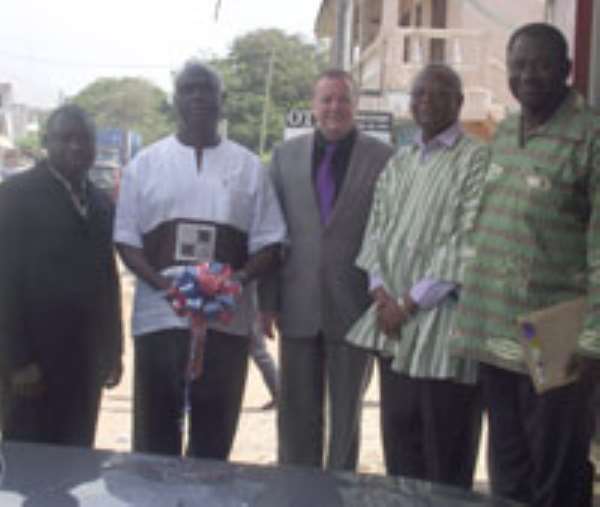 From right ,George Jerry Hanson Prez , CODE, Minister of Education, Alex Tettey Enyo (in smock ) Denis Anderson (extreme left) scheme manager at the commissioning of offices for the scheme
For the first time, professionals in the country, especially personnel under the Ghana Education Service would have the leverage of purchasing vehicles and other equipment using their professional qualification as a guarantee, without going through the bank system.
The auto scheme, to be operated by Unick Dezynes, was launched last month as part of interventions to boast the image of personnel in the civil service.
The Minister of Education, Mr. Alex Tetteh Enyo, who spoke to The Chronicle about the scheme, said its flexible nature is expected to serve as a greater incentive for teachers in the rural areas to join.
According to him, government has over the years grappled with attracting teachers to take up appointments in the rural areas. He was, however, enthused that the scheme would help to address the problem.
According to the Minister, the scheme has been designed to serve more teachers in the rural areas. 'Because of the level of income of Teachers, they are not able to make lifetime purchases. So when you are working towards this kind of intervention, you should know that this may be the first and last opportunity for them, 'he said
This is not the first time a scheme of this nature has been established, but there are aspects of this scheme that are novel and progressive. He noted that a two year grace period that would be given to personnel who buy vehicles or agricultural implements available under the scheme.
A unique feature of the scheme is that there would be maintenance centres spread across the country to offer a ready means of maintaining the vehicles. 'Under the scheme we are assured of a full proof programme in maintaining these vehicles and equipment,' the Minister noted
He hinted that government would not be committed in terms of finding guarantee for the scheme, which would make it even easier for the purchaser and supplier to have the programme implemented smoothly.
'The expected assistance from government is that if these teachers want to use the Ministry to get a waiver on the clearance of these vehicles, then government should be able to support these teachers, as has already been done with those who have obtained vehicles through NAGRAT and GNAT vehicle arrangement systems,' he said
The President of the Ghana Medical Association, Dr. Windfrey said the scheme was welcome news for Doctors and personnel in the health sector. He noted that most doctors have left the shores of this country for greener pastures just because they have not had the opportunity to access such basic assets as this scheme aims to provide.