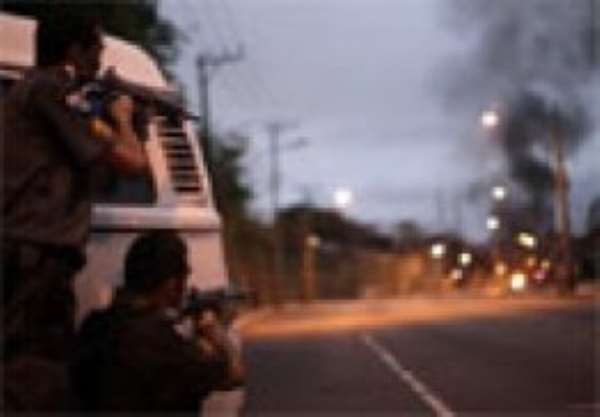 Police officers aim their weapons during riots at Jacarezinho
Police and gang members have clashed in the Brazilian city of Rio de Janeiro for a fourth day, despite further raids by security forces.
At least 15 people were reported killed last Wednesday as police sought to quell the wave of gang violence.
Heavily armed men continued to stop cars and buses, rob passengers and set vehicles alight, police said.
Officials say drug traffickers are fighting back against police operations aimed at pacifying city slums.
'There are groups of criminals who have been installed here for 20, 30 years, and they might not want to give up,' said Rio state public safety director Jose Beltrame.
'But we're not giving up either. If they keep this up, we will redouble our efforts. Anyone who gets in our path will be run over'.
Military police said 15 suspected gang members had died in shootouts with officers last Wednesday. Since the weekend, more than 20 people have died in clashes.
One of the victims was a 14-year-old girl hit by a stray bullet in the area of Penha, the Brazilian newspaper O Globo reported.
Two policemen were wounded in the clashes, officials said.
The Brazilian G1 news website said bombs, grenades and guns had been seized in police raids.
Gang-related violence has plagued Rio for decades, but most has been contained within the city's slums, known as favelas.
But at some of the top hotels, sightseeing trips to the favelas are no longer available. Taxi drivers have seemed noticeably tenser in the past 24 hours.
Rubem Fernandes, from Viva Rio, a group trying to address issues of violence, told the BBC that the situation was attracting outside attention because of the way the gangs were targeting vehicles.
'The pattern is one to provoke images of burning cars and buses, images which are very powerful on TV, and which can provoke a sense of fear,' he said.
Correspondents say the latest wave of violence has raised further doubts about Rio's ability to safely host the 2014 Fifa football World Cup and 2016 Olympic Games.—BBC
The latest clashes began on Saturday night when armed men began blocking some of the main roads leading out of Rio, robbing motorists and setting vehicles on fire.
Police said officers had been deployed in 28 slum districts.
More than 1,000 officers were removed from desk jobs to join the operation and 300 extra motorcycle police were on patrol, they said.
Rio's favelas have for years been controlled by heavily armed drug trafficking gangs.
The city's pacification programme is aimed at improving security and the rule of law in Rio in the run-up to the World Cup and Olympics.— BBC