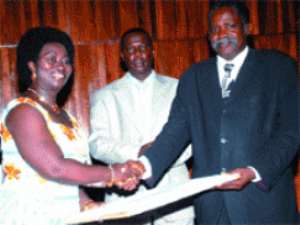 Twenty-three hard working and dedicated lectures, staff, students, as well as co-operate bodies, that have contributed to the improvement of the College of Art and Social Sciences (CASS) of the Kwame Nkrumah University of Science and Technology (KNUST), have been honoured by the college.
The Awards ceremony also marked the launching of a journal of the college.
Among the recipients were Prof. Dr Dr Daniel Buor, Provost of CASS, Mr Charles Frimpong and Mrs Ulzen Appiah all of the college and Mr Coby Asmah, Chief Executive Officer of Type Co. Limited.
The corporate bodies honoured, included Ghana Association of Bankers, Ghana Commercial Bank, HFC Bank Limited and the Valco Trust Limited.
Speaking at the ceremony, Mr Coby Asmah stressed the need for the university to adopt new scientific methods of teaching. This he said could be done by intensifying distance education programmes and called on the university to establish campuses in the other regions to give other applicants access to quality education.
Prof. W.O. Ellis, Pro-Vice Chancellor of the university, reiterated the commitment of the university to train manpower to meet the industrial demands of the country.
He commended the college and award winners for their achievements and commitment towards the development of the college.