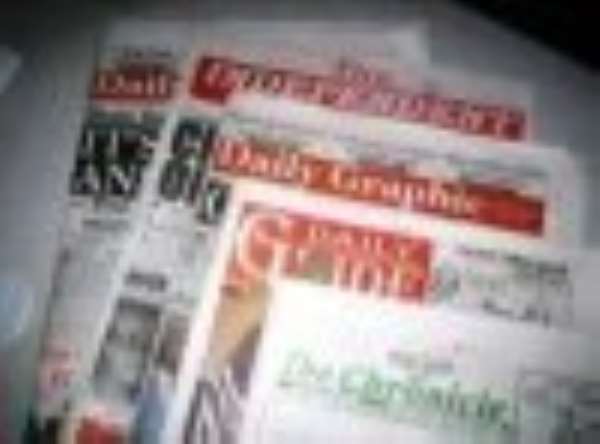 As Ghana Black Satellites face Brazil today in the climax of the FIFA Under-20 football championship, the Daily Graphic is urging the technical team to deal with the lapses in the defensive arrangement of the Satellites. This is to ensure a compact team and total victory over the Brazilians. To the Graphic, the pedigrees of the two teams, as well as their performance in the tournament so far, leaves no doubt that tonight's finals in Egypt will be nothing less than a football classic: one fit for the gods. This is because in both countries, football means more than just entertainment. It is business, a way of life and a safety valve through which the feelings of all social classes find expression. The Graphic wants the team to approach tonight's game with a sense of vengeance, as the two teams revisit the 1993 final in Australia. The paper says so far, the Satellites have demonstrated the character worthy of champions. To the Graphic, the question as to whether the Satellites can lift the trophy? the answer is YES THEY CAN.
The Ghanaian Times also salutes the Black Satellites as they face Brazil tonight in the final of the World Youth Championship. To the paper, a victory in Egypt will spur on the senior national team, the Black Stars, who are also set to undertake a world cup assignment in South Africa next year. As the paper joins Ghanaians in prayers for the Satellites to add Ghana's soaring image worldwide by adding the World Under-20 trophy to her accolades, the paper is urging the players and the Technical Team to guard against complacency. Apart from this, the team should also not be jittery in defence. To the Times, when we say Satellite, the response should be the cup is in Africa.
The Daily Guide is worried about series of allegations leveled against the Executive Director of the National Service Secretariat. Even more disturbing the paper says, is the mass resignation of the accounts staff of the secretariat. The Daily Guide notes that remunerations or allowances due the service personnel could be adversely affected by the non-functioning of the accounts department. The paper calls on the Ministry of Education to quickly find solution to the disturbing developments at the Secretariat.