Dr. Duffuor unhappy about violation of procurement laws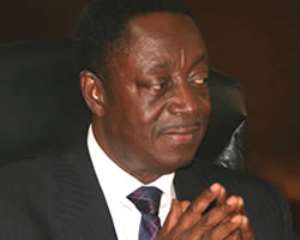 The Minister of Finance and Economic Planning, Dr. Kwabena Duffuor, has expressed concern about the public sector procurement system which is usually charecterised by considerable waste, fraud and corruption.
Speaking on Tuesday at the inauguration of three boards, the Central Tender Review Board, the State Insurance Company (SIC) Life and the Venture Capital Trust .Fund boards- in Accra, the Minister said procurement should be seen as a mechanism for service delivery, a tool for financial management and a vehicle for economic empowerment.
He said an efficient and effective procurement system must, therefore, ensure adequate, timely and cost-effective delivery of all goods, services and facilities, together with the achievement of economic and social objective.
"Nevertheless, it is generally recognised that within the public sector, procurement system, there is considerable wastage, fraud, and corruption".
Quoting section 20(2) of the Public Procurement Act 2003 (Act 663), the Minister noted, that the Central Tender Review Board had a clear mandate to grant concurrent approval or otherwise to ministries, government departments and agencies to enable them to undertake procurement processes leading to the award of contracts.
The board, he said, was also required to ensure judicious, economic and efficient use of state resources in public procurement; not only that, but to also ensure that public procurement processes were carried out in a fair, transparent and non-discriminatory manner.
"Experience has, however, shown that government institutions give more attention to procurement procedure than to performance, to process than to cost, and to their own perpetuation than efficient and effective service delivery", he said.
The minister has, therefore urged the board of the Central Tender Review to be interested in ensuring that goods, services and facilities were delivered with a set of defined standards within a given budget.
He said numerous concerns have been expressed about the process in government for dealing in bids and noted that the bidding process should be flexible and easy to comprehend.
Dr. Dujfuor stated that the call for flexibility in the bidding process should, however, not be construed to mean an invitation to violate the procurement laws and regulations, but be seen as an opportunity to assess the continuing relevance of those rigid and inflexible regulations in terms of their implication for efficiency and effectiveness.
"I implore the board to explore creative ways of using the public procurement system to support the growth and empowerment of local small, medium and micro-enterprises other than the known national competitive tending where only domestic contractors and suppliers are eligible".
Touching on the SIC, the minister said insurance is an important and growing part of the country's financial sector and that a resilient and well-regulated insurance industry can contribute significantly to economic growth and efficient resource allocation through the transfer of risk mobilization of savings.
He said the insurance sector in the country has traditionally been regarded as a relatively stable segment of the financial system.
"The recent financial sector reforms and the accompanied influx of insurance companies appear to have increased the vulnerability of this sector", he said.
On the Venture Capital Trust Fund Dr. Duffuor said it was established by an Act of Parliament (Act 680) in 2004 with the primary responsibility of providing funding to support the development of Small-Scale and Medium Enterprises.