EPA Asked To Withhold Papers Of Defaulting Mining Companies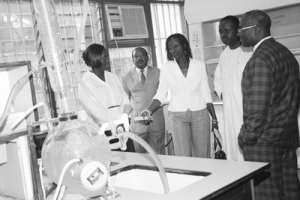 THE Environmental Protection Agency (EPA) has been directed to withhold licences of Mining firms that do not fulfil the requirements of the Environmental Impact and Social Assessment.
The Minister of Environment, Science and Technology, Hanny-Sherry Ayittey, who gave the order said if that was done during the evaluation of performance of mining companies, most of the problems bedeviling the mining communities could be curtailed.
The country's environmental and social assessment requirements for mining firms should build schools, plant trees in forest reserves where they operate, provide alternative source of livelihood and not to divert water bodies.
Speaking to the Times after a familiarisation tour of the premises of the EPA in Accra yesterday, Ms Ayittey remarked, "we have to find ways to compel mining companies and other firms that operate in the country to respect our laws."
The Minister said the environment and lives of the people who reside in mining communities needed to be respected and protected by all.
"The inability of the appropriate bodies to enforce rules and regulations allows the mining companies to destroy farms, release toxic materials into water bodies and other teething problems that make life unbearable for inhabitants in mining communities," she said.
Ms Ayittey said the flouting of the laws on mining with impunity had dire consequences on the people and needed to be stopped.
The EPA therefore, needed to position itself in the centre of affairs to properly manage the nation's environmental affairs.
She said the new paradigm for the EPA would be to enforce its mandate and ensure that Ghanaians changed their attitude towards the environment.
At a meeting with management and staff, the Minister said a new laboratory equipped with modern facilities would be built for the agency to enhance its operations.
"The capacity of staff has to be enhanced and, hence, research activities and training programmes would be organised for them to be on top of issues," she said.
She said with the advent of oil and gas exploration in the country, the EPA had to come out with appropriate measures to enable it to play a central role.
Ms Ayittey announced the establishment of an "Environmental Fund" to help the EPA in the acquisition of logistics.
The Executive Director of the EPA, Jonathan Allotey, assured the minister of the workers' commitment to their mandate and appealed for funds to enhance the operations of the Agency.