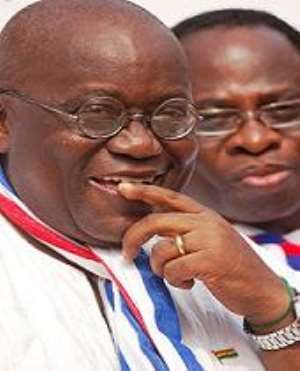 Nana Akufo-Addo
It is barely about a month ago when the news started filtering in that Nana Akufo-Addo; the 2008 defeated presidential candidate was going to break his supposed long-silence to comment on long ranging issues confronting the country. In fact pro-NPP newspapers even went further by stating that Akufo-Addo was going to take President Mills on by punching, butting, bloodying and finally pointing out his failures on wide-ranging issues.
The day finally came when the NPP 'Show Crew' sporting former ministers and party functionaries gathered at Osu for Akufo-Addo who has still not recovered from the 'severe beatings' he received from the hands of President Mills during the 2008 presidential elections, to hold his press conference.
The English was good and loaded and allegations were plenty. Blinded support Akufo-Addo got it, but the substance of the message was zero. The substance was zero in the sense that Akufo-Addo who thinks the 2008 election results is still being counted for him to be declared the eventual winner is judging President Mills who is still appointing people to fill sensitive and important positions in the country. How can somebody in his right senses just wake up and judge a president who has barely taken office?
To be precise President Mills was judged by Akufo-Addo when he has been in office for less than five months. Even within those five months, President Mills had used most of the period to get his feet warm by studying what is on the ground, the rot that the NPP left behind, appointments and other international commitments. So what did Akufo-Addo expect President Mills to achieve within that period?
I would have loved it and Ghanaians would have appreciated it the most if Akufo-Addo had done a side-by-side comparison of ex-president Kufour and President Mills achievements within their first five months in office. That would have helped in making his case but what he did was just a mere showmanship and an attempt to portray to NPP members that he is the de-facto leader of the party.
Having mounted the reigns of government in view of the global economic mess, one would expect Akufo-Addo to offer a better alternative in helping Ghana to come out of this recession rather than asking President Mills to travel. Travel for what? For all his global travels with lots of delegation including concubines who at times fought each other to gain his attention how much money or monies did Kufour bring to the country? Some would argue that he did bring a lot. Well said, but how much did it benefit the ordinary man on the street?
Akufo-Addo did accuse President Mills of having failed Ghanaians. He said that to whip up his support and raise the enthusiasm of the NPP people. If Akufo-Addo is not aware or if he is just trying to be unaware, then let me school him a little bit. If we are talking about a party that has failed Ghana woefully in terms of failing to use the monies donated and loaned to Ghana for the right projects then it is no other party than the NPP. The NPP guys know this as the gospel truth but continue to throw dust into the eyes of Ghanaians. Most of the monies went to service their parochial interest.
If Akufo-Addo wants to accuse President Mills of failing to deliver he should first tell Ghanaians what happened to the Kasoa-Cape Coast Road Project. They the NPP people and many Ghanaians know that the road project was supposed to be a dual carriage. What happened that changed the road into a single lane when the money solicited for the project was for a dual carriage? Can Akufo-Addo find the answer and organize another press conference to tell Ghanaians what he knows?
Akufo-Addo was talking about cronyism in the Mills administration and lack of experience and better foresight. Well said. But if we want to talk about the cronyism the NPP exhibited in the past 8 years we would run out of space. If we want to talk about better foresight, something little faults the NPP big time. The party which is full of dishonorable men was in power for 8 solid years, yet they did not find the urgent need to secure the funds in time for Mallam/Tetteh Quashie road.
I really pity those who live in those areas and the sort of hassle they go through every single day trying to get to work and drop off their kids at schools. It is simply a big mess. I have even forgotten about the terrible Legon/Medina Road. People have been burning in traffic for all these years and has it occurred to Akufo-Addo to find out that if people burn in traffic to work, they tend to have less appetite to work hence productivity suffers.
It is simply senseless to construct the Tetteh Quashie Interchange then ignore the Legon/Medina road and jump head over hills to construct the Aburi road. Does that makes sense why the NPP did that? Is it because some of the NPP bigwigs live in Aburi? The simply question to Akufo-Addo is why did his party fail to construct the Legon Medina Road where the population quadruple that of Aburi? These are the issues that Akufo-Addo should have addressed during his press conference.
Akufo-Addo should tell Ghanaians what happened to the billions of dollars that the international community gave to Ghana when it opted for HIPC. Was all the monies spend wisely by Kufour's government and for the very purpose under which it was given? Akufo-Addo knows that his party blew more than 60 percent of the monies while many Ghanaians wallow in poverty. Yet instead of talking about these failings by his party he has the guts to talk about a government that has barely been in power.
If there is one individual who has been dogged by drug issues it is no other person than Akufo-Addo. While some people accuse him of being high on drugs others tend to believe that he is friends of some big time drug dealers which is why Akufo-Addo has never addressed that issue. Even during the campaign to lead the NPP party, Dr. Arthur Kennedy made a startling accusation that some NPP candidates were being funded by drug barons.
It is therefore laughable for Akufo-Addo who as Attorney General in Kufour's administration simply could not prosecute arrested drug dealers to turn round to accuse President Mills of doing nothing about the drug menace in the country. Does this man have a spine in his back? I believe not, otherwise he should know by now that Ghanaians read through his ploy and phony ideas laced with huhudious agenda which is why they rejected him at the polls. And I have stated over and over again that Akufo-Addo would never be president of Ghana.
If Akufo-Addo wants to help Ghana in his current status as the 2008 defeated presidential candidate, he as a lawyer should help to unravel the mystery surrounding the NPP loot which has left the country broke. Unless he did not participate in the looting frenzy, he would better serve Ghana if he helps to expose those who took Ghana for granted. Might be if he does that Ghanaians would begin to look at him from a different perspective. Otherwise there is no way he can tell Ghanaians that he is a different kind of person when he is part of the team that looted Ghana and see nothing wrong about it.
By Ekua Kwansema
[email protected]