Police Indicted•They Are Criminals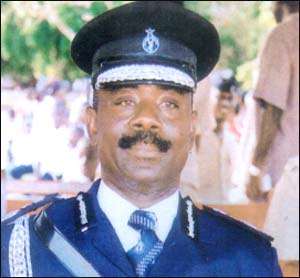 Commissioner Adu-Gyimah The Director General in-charge of Police Services, Commissioner of Police Yaw Adu-Gyimah, has expressed regret that police personnel who ought to protect the citizenry from criminals are themselves criminals, thus denting the credibility of the Service.
The Commissioner of Police made this assertion at the Police College at Tesano, Accra, where some 116 police recruits passed out yesterday, May 12, 2009.
He observed that, "instead of fighting crime, I say it without reservation that some policemen themselves are the criminals.
"Police kill instead of protecting life. Police rob instead of protecting the public from robbery. Police defraud and condone fraud instead of protecting the public against fraudulent elements in the society," he said poetically.
Mr Adu-Gyimah went on to say that instead of the public being shielded from bullies, police personnel themselves molested members of the public.
The police, he noted, have abandoned their duty of ensuring safety on the roads and have rather introduced extortion on the roads, resulting in the carnage on the roads.
He therefore charged the new recruits to resolve to change the negative picture painted about the Service by some of the personnel which has resulted in public mistrust of the police.
He observed also that combat and crime prevention had become an uphill task because some personnel are quick to blow off the lid of their informants, adding that without information, the police will wallow in a quagmire of futility in their quest for crime prevention and detection.
The recruits, drawn from Kumasi and Accra, are made up of 101 females and 5 males.
Bridget Yeboah was adjudged best in academic work and the overall best recruit for the Kumasi contingent, while Augustina Vigbedor was adjudged the best in academic work and overall best recruit for Accra.
Other deserving recruits were also awarded.
Commissioner Adu-Gyimah encouraged all personnel of the Service to arise and redeem the image of the Service, adding, "Until we do this, the Ghanaian public cannot proudly refer to the police as a peace officer."
By Rocklyn Antonio