President Mills Peps Up Investor Interest In Ghana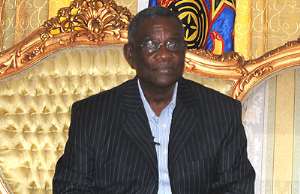 H. E. John Evans Atta Mills, President of the Republic of Ghana On the second day of his official trip to London, H E, President John Atta Mills has spent considerable hours reinvigorating the interest of investors; selling Ghana as a preferred investment destination.
Beginning with Tullow Oil, the President assured them that his Government will not abrogate any previous contracts just to score cheap political points.
The President said his Government is not going to antagonise business entities, taking into consideration the adverse consequences of such a move.
He however reiterated the fact that it is important that Government combs through all existing business contracts to make sure that Ghana benefits appropriately.
'I pledged to the people of Ghana that I will at all times defend the interest of the nation and I will not renege on my pledge' the President said.
'So if we are critically examining existing contracts, it is not because we want to abrogate contracts, it is because we owe it a duty to Ghana and our conscience so to do', the President added.
He was also the Special Guest at a CHATAM House organised 'Africa Investment Forum', where he rolled out his vision for attracting investment to Ghana.
According to the President, the only way to attract investment is for the Government to be honest, open, transparent, and not self-seeking. And that is what he is committed to.
The President made the point that, empowering local investors is also sine qua non for attracting foreign investment.
According to the President, his Government will therefore endeavour to provide the appropriate investment climate for both local and foreign investors.
In providing a conducive environment, President Atta Mills said that due process will be followed and the laws of the land will not favour only one side of the divide.
According to the President, his Government will work at macro-economic stability, minimise delays in the investment chain, as well as ensure that Ghana invests in its people in order to have the requisite manpower base to support, and benefit from Government's investment agenda.
The President also pledged to vigorously fight corruption, crime, and the drug menace since such vices do not send the right signals to investors.
'It is known fact that capital has a choice, and will not go where it does not feel secure' was how the President put it.
His Excellency made the point that he attached so much importance to attracting investments to Ghana that is why he made the trip with his Ministers for, Finance, Trade & Industry, Foreign Affairs and a Deputy Minister for Energy.
President John Atta Mills also participated in a Ghana Investment Forum, where he further stated his vision for attracting investment to Ghana.
At the Forum, the Finance Minister, Dr Kwabena Dufuor, Trade & Industry Minister, Ms Hannah Tetteh, and Deputy Energy Minister, Dr Kwabena Donkor, made presentations on investment opportunities in Ghana.
'Investors can rest assured that the primary concern of the Ghana Government will be what will be of interest to both Ghana and the Investor, and not what will benefit a few government officials' was a strong thread that run through the message of President Atta Mills.
The President at all times reiterated his commitment to build a Better Ghana and said it will not be business as usual; and that the old way of doing things, will give way to a better way of doing things.