Dr. Kwesi Aning is losing it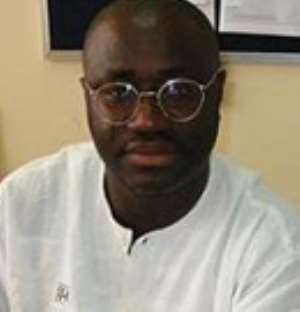 Dr. Kwesi Aning (security analyst)
I would not lose sleep over Dr. Kwesi Aning's demands to fire the northern region minister if I were the minister. It should be dismissed as one of his 'attention seeking' activities. Dr. Kwesi Aning (security analyst) is increasingly displaying himself as inconsistent. His calls for the sacking of the northern region minister but would not discuss the incident that triggered the minister's expulsion of the District Chief of Police, DCOP Mensah Gyeabour. I have listened very carefully to almost all the interviews granted by the minister in question, S.S. Nayina and Dr. Aning on the sacking of DCOP Gyeabour from the Regional Security Council meetings.
The minister has been rather professional and decisive in his handling of the issue. He understands it may not have been within his powers to ask Gyeabour to resign, so he holds a vote of no-confidence in the police chief. What is wrong with that? What does Aning expect? Gyeabour should be happier he is reassigned and not asked to resign. What happened to Gyeabour is almost nearly as what happened to the UK's head of counter-terrorism, Bob Quick. The mayor of London (who's also the Chairman of the Metropolitan Police Authority, their version of REGSEC) Boris Johnson, announced the resignation of Mr. Quick after the police intelligence boss was photographed displaying a secret document.
As regional minister and chair of REGSEC, it is within Nayina's limits to decide who is qualified to sit in REGSEC meetings and so far Gyeabour has proved unworthy of a place in such deliberations after the revelation that he'd revealed secret information. Dr. Aning's call for the minister to go is very unfortunate. When Kwesi Aning had the chance to discuss the issue, what did he do – he deliberately glossed over it and went on a vitriolic attack on the minister. He didn't engage his interviewers on the issues; no he was interested in telling us how Nayina is incompetent. Does Nayina's so called incompetence or otherwise absolve the DCOP from the accusations of leaking a story?
Dr. Aning has been calling for reform in the police service; he even supports devolving the service into civilian hands. His position is that a civilian should be made the most senior police officer in Ghana, and not just any civilian but a male civilian – and he wants us to believe on authority that Mrs Elizabeth Mills Robertson is unfit to be the most senior police officer in our country simply because she's a woman. You can't take a man with a chauvinistic streak seriously, especially when he has also shown a complete lack of understanding of policing by calling for a civilian Inspector General of Police and wants the service to be run with the view to making profit. It couldn't get worse than that.
The regional minister has a significant say over policing issues in his area of control. He is the Chair of security matters in the region. He is the commander in chief of the region and has oversight responsibility over security matters, full stop.
Since Dr. Aning likes 21st century policing, I would like to take him on a short global tour. A district commissioner of police is always accountable to the minister or mayor of the region he operates from; that is the practice in the countries people like Dr. Aning wants us to copy from.
A chief of Police in the US is accountable to the mayor. From Germany to Japan, the mayor appoints the commissioner of police and it is common practice in many parts of the world. In the UK, it is the home secretary (interior minister) who appoints the commissioner of police or IGP, but the mayor as we have seen most recently can facilitate their removal.
When Boris Johnson took over as mayor of London in May last year, he warned the UK's IGP (the most senior police officer in the UK), that he would be sacked unless he "dramatically cuts crime."
Five months down the line-October 2008- the mayor announced the resignation of Sir Ian Blair, the Metropolitan Commissioner of police. The police boss was told the mayor didn't have confidence in him anymore. He had to go. End of story.
I Ghana should open debate over reforms, especially about the powers of a regional minister over a DCOP and whether or not a regional minister should be entrusted with the legislative powers to fire an inept or indiscreet district police commissioner. AS the rules stand now, Mr. Nayina has not breached his authority over restricting the DCOP from REGSEC meetings. The last thing I want to seen in my country is easy prey security officers who could be used by outside forces to work against my country. You can't take a chance with an officer who lets out information.
Dr. Aning and the rest of us should be worried about indiscreet squealing of information and also growing reports of police officers conniving with armed robbers and drug pushers. Mensah Gyeabour maybe a fine officer, but he has limits, and one of them is not to give out information without clearance. As a senior police commissioner, he must know this.
We should very much endeavour to stay away from politicising the police service. We run a big danger of politicising the service. This danger must however not prevent politicians who have the responsibility of overseeing the work of our men in uniform from punishing wrong doing and rewarding creativity and dedication to nation. Wrong doing is wrong doing. If Ghana were a serious country, Gyeabour's resignation letter would have been on the table by now.
We should rather clap for Mr. Nayina. This is a country where minutes of cabinet meetings are easily accessed, where people are flouting the state secrecy acts and squealing deliberations of meetings without clearance. Police operations into criminal activities are almost always bungled because we have come to accept it is ok to talk about official work in private gatherings. Is that the culture Aning wants us to uphold?
Ras Mubarak.
[email protected]