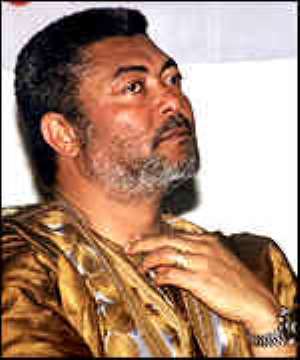 I felt so sad reading an article captioned "Why I Hate NPP"-Rawlings. See "moderngahana.com" 08.04.09. "Hate" (a verb) is a feeling of intense dislike for or a strong aversion towards…. (Oxford English Dictionary). I was beyond belief to read that the former president used such a strong word to describe his political opponents in the NPP. Rawlings expressed these sentiments at Jirapa during the NDC's campaign for the parliament seat of that constituency made vacant by the untimely death of the late Hon Salia (May his soul rest in perfect peace). Such words and feelings have no place in a young democracy such as ours. Most importantly, in our part of the world where we have many different tribes and associations, one ought to be careful and weigh their words carefully when speaking in public. Even by Rawlings' own boom standards, that was way off the mark. It was childish, immature and un-statesman-like. Politician cannot afford to use words of that nature with careless abandon to pollute the political atmosphere. Rawlings doesn't need to "love" the NPP and certainly doesn't need to "hate" them either. It's about time his numerous hangers-on and bootlickers have some balls to tell him to speak and behave like a former president or at least, behave like some one his age.
I was left disgusted and sick to the stomach by the same article when Mr Rawlings in his attempt to score cheap political points and create more divisions in the Ghanaian body politic as he is wont to do said, the "people of Ashanti Region fought against his family planning programme introduced in 1983." The opposition to his family planning programme he explained, "….stemmed from their plan to multiply at a faster rate to create populations they could take advantage of…" to defeat the NDC. He went on further to state that, "NDC can decide to punish them for that but we will not do it." I am a proud Ghanaian and equally proud to be an Ashanti. Being an Ashanti doesn't make me better or superior to fellow Ghanaians from other tribes. No one can change how s/he was born but even if I could, I wouldn't have changed my Ashanti heritage for any other race, tribe or clan. If baffles my understanding why Rawlings has continued his campaign to demonise Ashantis wherever he mounts a political platform. From Accra to Zabzugu, Rawlings has sustained attack on Ashantis at the least opportunity. I have only known 2 presidents, Rawlings and Kuffuor in my lifetime. Among all the leaders Ghana has had, Rawlings is the one I am least impressed with. Even though I grew up under him, I have never liked his utterances. To me, he does not live his words. He likes to pontificate, make himself look a saint and all others as clones of Lucifer himself. Here are few of my reasons for accusing him of not living his word: Under his chairmanship of the PNDC, people were shot for having more than one toilet in their houses (Can Rawlings tell Ghanaians how many houses he has and how many toilets each of them has?); others were killed for having 50,000 Cedis in their account (Can he tell Ghanaians if he has no more than GH5, 000,000.00 in his accounts?); how many of the common Ghanaian he came to "liberate" with his revolution has friends "sponsoring their children's education abroad"? This is a man who left office with a fleet of 17 luxurious cars, returned 12 of them in his own time (after 12 months) and kept 5 of his choice, yet calls Kuffuor who also left office with 6 equally luxurious cars (all 6 "retrieved" within 2 months to be replaced with 3 new ones) a thief. This is a man who is so deluded he does not see the mole in his eyes. Growing up, I always found it very difficult to reconcile his words with his deeds. Personally, I think the man suffers from delusions of grandeur and believes he is even holier than Jesus Christ. Rawlings acts and talks like he is the only one qualified and deserving to be president of Ghana. In fact, judging by his status now as compared to the past, his so-called "revolution" was only to enrich himself. Having failed to improve the lot of the common man, he now feels haunted by the ghosts of those Ashanti entrepreneurs he persecuted and killed.
It is a big shame for former president Rawlings to let his hatred for the NPP to degenerate into an open threat to Ashantis that the "NDC can decide to punish them for that but we will not do it". Can you or the NDC really do that, Mr Rawlings? Bring it on if you could! It is an open secret that Rawlings' putsch targeted Ashanti entrepreneurs. The accusation that Ashantis opposed his family planning programme in 1983 because we wanted to "multiply at a faster rate to create populations" we "could take advantage of to defeat NDC" is an absolute balderdash! What bunkum! What census figures did Rawlings base this psychotic ranting on? Could he for once tell Ghanaians the truth about which tribe has grown in astronomical numbers since census was first carried out in the country? We are the least bothered by his empty threats. In case Rawlings has forgotten the little history he learnt at school, I will like to remind him that Ashantis are fearless and would not make babies just to defeat him or his party. While all others surrendered to the British, we fought and defeated them neither with numbers nor sophisticated weaponry, but with sheer determination to defend our land, our pride and our identity. We fought them because we refuse to be bullied and cowed by any person or a group of persons. Ghanaians have opted for a multi-party democracy and Ashantis are not obliged to vote for the NDC. If it takes Ashantis to oppose NDC for Ghana's multi-party democracy to survive, then so be it. We have never been anyone's poodle and we are not going to change for a certain Jeremiah John Rawlings! We never beat the retreat track during the PNDC days when his soldiers and the CDRs were proudly dangling and displaying guns like expensive jewellery. If being born to a Scottish father and Ewe mother is not a crime, being born an Ashanti can never be one either.
The problem with Rawlings is that, he is gun-totting bully and a coward who cannot stand being looked eyeball to eyeball. This is what we Ashantis have done since he imposed himself on Ghanaians. We have looked him eyeball to eyeball and have shown no fear and this is what has irked him to date. Even at the peak of his so called revolution when many Ashantis were inexplicably made victims, we never backed down. Ashantis hate bullies, especially those who out of cowardice try to incite others against us like Mr Rawlings has done since 1979. I hope other tribes are not taking any notice of the tribal vituperations he has been spewing out. Our motto: Kum Apem a Apem Beba (literally translated means: Kill a thousand of us and a thousand others would appear from nowhere to take you on) is not for nothing. Ask the British about this. Let no one be deluded that spewing out such anti-Ashanti sentiments like the above would in anyway diminish our pride or our sense of belonging. It is rather counter-productive.
Regardless of Mr Rawlings and his NDCs agenda against Ashantis, we will continue to put Ghana first by welcoming everybody to the Ashanti Region. Perhaps it is only in the Ashanti Region where one sees a cross-section of the Ghanaian community; where every tribe have their own chief co-habiting peacefully as brothers and sister without a hint of hatred or animosity. Ironically, it is these same people Rawlings and the NDC have over the years portrayed as tribalist. His clarion call has reached a crescendo with a group of people threatening to evict Kuffuor from Ga lands if he does not vacate his office. We have 2 former presidents in Rawlings and Kuffuor. Rawlings has an office and property (ies) in Accra so why shouldn't Kuffuor? This anti-Ashanti sentiments and tribalism is gradually gaining grounds. Those who are buying into it should be extremely careful. We have only one Ghana and Rawlings shouldn't be allowed to tear it up. Enough of your anti-Ashanti sentiments, Mr Rawlings! Ghana belongs to us all. Let those who care to listen know that we are one nation, one people with a common destiny! It is equally important to remind readers that, we never kowtowed to Rawlings in his heydays and we are not about to so now. Get on with it Mr Rawlings and leave us alone!!!
By: Kofi Kyei-Mensah-Osei