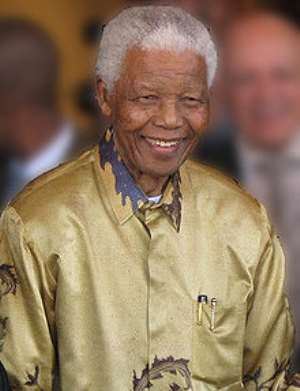 Brenda Morris is a British colleague who has a genuine interest in the development of Africa. Her interest in the affairs of the continent is genuine. Brenda has such passion for Africa that she seizes every opportunity to ask questions about the goings-on in Ghana in particular and the continent of Africa as a whole. Brenda and I we were recently talking about Africa and its current crop of leaders whilst watching the laying in state of the continent's last bastion; the late Nelson Rolihlahla Mandela when she made some comments that really touched to the core of my soul.
As we watched some of the current African leaders file past the body of Mandela, my British colleague retorted; "...Such a great man! He was larger than life. Mandela was Africa's gift to this turbulent world. I wonder if any of your current leaders would take up the challenge to emulate him..." As the import of her statement hit hard in my heart, I looked on her tear-strewn face and realised the significance of her comments as it began to sink in.
As some of the current African leaders filed past the body of Mandela trying too hard to look even more sorrowful than the latter's family, the thought that went through my mind was: Are these tears genuine or were they shedding proverbial crocodile tears? Our continent is endowed with the Creator's ultimate blessings: both human and natural resources. Africa has every natural resource in abundance: gold, iron, bauxite, iron, oil, rivers, lakes, mountains, farmlands and yet poor leadership has made us dependent on handouts from the west. When it comes to human resources, the continent does not lack it. The rise of Boutros-Boutros Ghali and our own Kofi Annan to the nadir of United Nations attests to this. Our continent should rather be wallowing in opulence and affluence but not this level of abject poverty! Africa should not be a sorry sight of wars and destruction as we are on television sets in the developed world. Nelson Rolihlahla Mandela being an African who rose to the status of a world statesman is indicative that Africa has men and women of integrity to match any from elsewhere in the world. It means also that any of the leaders we have on the continent today could become the next Madiba if they make conscious effort at jettisoning corruption, selfishness and divisiveness. Unfortunately, the leaders we have in Africa today are all insatiable power-drunks and kleptomaniacs who steal enormous amounts of money from state coffers to enrich themselves at the detriment of the poor.
So as I pondered over my friend's comments whilst we watched the world eulogise the passing away of a noble man, I looked at the faces of the African heads of governments present at the funeral and my despair ebbed into hopelessness; even to the point of melancholy. Has Madiba gone with the last hope of Africa? For nearly a quarter of a century, Mandela became the leadership success story that masked the continent's poverty of leadership material. Many heads of states and governments dead or alive today who have paraded the world stage as leaders on the continent but ended up bringing shame on the continent through greed, avarice and vainglory. Mandela's modesty, dedication and selflessness to the cause of a united South Africa through decades in prison, his presidency and even when he left office poignantly emaciates an apology of leaders we have in Africa today. If for nothing at all, his ability to restrain black South Africans from exacting vengeance on white South Africans after years of apartheid rule would never be equalled by any African leader. The rainbow nation is made up of people from different racial backgrounds (black, Indians and Afrikaans) yet his leadership maturity and tactfulness was able knit the different people together into one country.
Juxtapose that background of South Africa against many other one-race African countries where their leaders rather than preach cohesion and oneness to promote development; still contrive to use religion and tribe to create division in order to gain access to positions of power and you will understand what I mean. In the end, such people with bankrupt leadership skills end up breaking up their country and bring unending cycle of tribal division, tribal and civil wars with concomitant hardship on generations of their people. Rwanda, Burundi, Somalia, Congo DR, Chad, Mali, Mauritania, Sierra Leone, Liberia, Cote D'Ivoire and other African countries have one way or the other been through the crucible of civil or tribal war in the past. Nigeria has had its fair share of this during the Biafra war. Unfortunately, they are going similar problem with the Boko Haram scourge in the northern part of that country. In the past few months though, Central African Republic and even South Sudan who gained independence just 2 years ago, have joined the fray of African countries caught in the web of the dreaded religious and tribal wars. The more I look at what goes on in Africa, the more I keep repeating the sentiment my colleague expressed whilst shedding tears for Mandela when she said; "I wonder if any of these current leaders would take up the challenge to emulate him"? Sometimes I feel exasperated looking at the current crop of leaders and their penchant for corruption.
The current heads of government are so hollow, vain and morally challenged that none would have the courage to take up the mantel and lead where Madiba trod. I am afraid though that, that is a standard too high and I can wager my bottom dollar that none would even try to emulate him. No wonder Mo Ibrahim Foundation for Excellent Leadership in Africa has managed to award the $5000, 000 prize money only once since its inception. This is testament to the low-grade calibre of leaders that the continent that has afflicted the continent over the years. How I wish "the last African leader to have read Mandela's epitaph ..." at the latter's funeral would rise and take up the challenge of leaving an indelible footprints in the sands of Africa before they depart. We need another of Madiba's kind who would command the respect and have the ears of the developed world. The current crop of leaders do not inspire any confidence so I guess my wish would continue to be a fleeting illusion in my lifetime but how I wish I would be proved wrong!
Kofi Kyei-Mensah-Osei