Government to improve Agric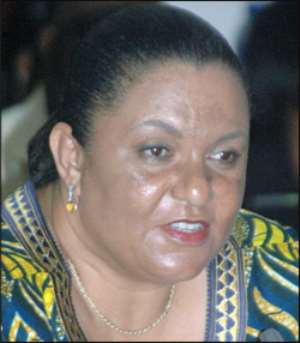 Ms Hanna Tetteh THE MINISTER of Trade and Industry, Ms Hanna Tetteh has announced government's commitment to growing the agricultural sector and promoting agro-industry in Ghana.
She said the country currently is faced with a situation where almost 60% of its workforce is in the agricultural sector, most of whom are crop/subsistence farmers.
Ms Tetteh who said this at the opening of a MEGATECH showroom by Dizengoff Ghana Limited in Accra expressed dissatisfaction at the myriad of supply side constraints limiting the opportunities to access markets and export products in greater quantities.
The Minister was hopeful that Dizengoff could produce the much needed support to help Ghana improve on it's agricultural productivity,  achieve food security, increase it's raw materials output and overcome supply side constraints to help agriculture and agro-based business for enhanced productivity.
"We are committed to modernizing agriculture and this will no doubt involve improving farming practices through the application of technology, relevant to the demands of agriculture and agro-industry".
She further opined that, this would increase production and result in wealth creation.
According to Ms Tetteh, Dizengoff could be a trusted partner if it continued to offer products and services that were competitively priced, adding that their technological competence should enable them remain competitive.
Ms Tetteh, encouraged by Dizengoff's collaboration with the Ministry of Food and Agriculture, Cocoa Board, Water Resources and Crops Research Institute, Commended Dizengoff for the initiative and said the move would enable it come up with innovative products and services for Natural Development.
The Minister of Trade and Industry also announced government's special attention for Micro, Small and Medium Enterprises Sector saying it made up about 80% of Ghana's economy.
She was however not happy about the constraints impeding the growth of the sector and urged Dizengoff to identify the technology needs of SME's, especially those in the agro-processing sector and provide the appropriate assistance.
The minister assured the business community to pursue appropriate fiscal disciplines to reduce budget deficits, avoid deficit financing which she explained could lead to the crowding out of the private sector.
The managing director of Dizengoff, Mr. Moshe Hamtzani, praised staff for their hard work and insisted that for any business to thrive, there was the need to be forward thinking, proactive and productive.
The Israeli Ambassador to Nigeria and Ghana, H.E. Mr. Moshe Ram, promised to do whatever it took to ensure capacity building in Ghana and also make Ghana an agricultural giant in the world.