Trinidad & Tobago eyes Ghana's gas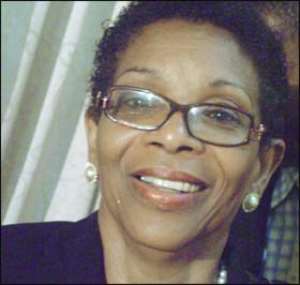 Victoria Mendez-Charles TRINIDAD & TOBAGO, an archipelagic state in the Southern Caribbean, has expressed interest in assisting Ghana to build a vibrant gas and energy sector.
Making this known to journalists Tuesday in Accra, Victoria Mendez-Charles, Trinidad & Tobago's High Commissioner to Ghana, said her country's economy, primarily industrial-based, thrives mainly on the oil and petrochemical industry.
She said her country which is into the production of natural gas, chemicals, steel products and fertiliser, "possesses sizeable oil and gas reserves and its prosperity is linked directly to the petroleum and petrochemicals industry apart from its tourist industry".
Mentioning the country's GDP per capita income currently as $14,000, she indicated that Trinidad & Tobago has been operating on fiscal surpluses for the past five years.
"It has been constantly reducing its external debt as a percentage of GDP and also its exchange rate arrangements provide additional flexibility for such a situation.
"GDP has almost tripled from $55 billion in 2001 to $152 billion in 2008. It is projected to rise to over $165 billion in 2009. And this is an incredible performance even by global standards."
The country's real GDP was estimated to grow by at least 3.5 percent in 2008 comparable with the average global growth rate. While growth in the energy sector leveled off in fiscal 2008, the non-energy sector continued to register rapid growth.
For the first time in many years, the non-energy sector grew at a faster rate than the energy sector.
Also, growth in its non-energy sector was broad-based, covering construction activity, manufacturing, tourism, wholesale and retail trades and financial services.
The unemployment rate of the country at the end of the second quarter of 2008 stood at 4.2 percent, "unprecedented in our nation's history and favourably comparable with developed countries such as United States and the United Kingdom.
This reflects the creation of more than 75,000 new sustainable jobs since 2002".
The country's external accounts have continued to strengthen reflecting the high oil and gas prices. As a result of the above, its external reserves increased to US$8.52 billion - an equivalent of 11 months of import cover.
This excluded the sum of US$2.46 billion currently lodged in the Heritage and Stabilization Fund, which represents more than 10.2 percent of GDP and is considerably higher than the level of its external debt.
Over the years Trinidad & Tobago has been pursuing and engaging Ghana's government in discussions regarding the establishment of an agreement on economic, scientific and technical cooperation in areas such as agriculture, energy, culture, technology and low cost housing development.
Its government has also expressed a desire to deepen relations with the West Africa sub-region and already entered into discussions with the Ghana Government on the establishment of a bilateral air services agreement (BASA) which will create a platform for airlines to provide a direct service between the Caribbean and West Africa to increase the potential for trade, investment and cultural exchange.  
At the 8th Summit of the African Union, Patrick Manning, Prime Minister of Trinidad & Tobago pledged his country's support for the African continent and offered technical assistance to a number of African countries, including Ghana in the area of gas and energy sector development.
By Samuel Boadi