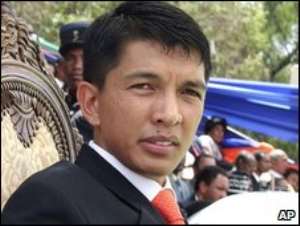 The Southern African Development Community has suspended Madagascar and called on its new leader, Andry Rajoelina, to vacate the presidency.
SADC said after a summit in Swaziland that its leaders would not recognise Mr Rajoelina, who ousted President Marc Ravalomanana this month.
Mr Ravalomanana, who was accused of corruption by his opponents, briefed the summit on the political crisis.
The much-larger African Union has already suspended Madagascar.
SADC executive director Tomaz Salomao announced the suspension.
"The extraordinary summit suspends Madagascar from all community institutions and organs until the return of the country to constitutional order," he said.
At least 8,000 people attended a new rally in support of Mr Ravalomanana in the Malagasy capital, Antananarivo, on Monday.
Phone message
The demonstrations brought the centre of the city to a standstill once more, the BBC's Jonny Hogg reports from the city.
There was no repeat of the violent clashes on Saturday which left more than 30 people injured but the crowds who gathered to support Mr Ravalomanana heard him address them on the telephone from Swaziland.
He told his supporters to remain strong and promised he would return.
The focus of many of the speeches at the rally was the role of foreign powers, with some calling for a military intervention to restore Mr Ravalomanana to power.
However, as protesters were once more halted by security forces, one supporter of the transitional government, calling himself Silvan, dismissed the role of the international community.
"The situation now is legal," he said. "The power was transferred to the head of the army who transferred it to Andry Rajoelina.
"Calm has returned in the international context - this is a Malagasy affair, a purely Malagasy affair and the solution is Malagasy. All the people support the transitional government."
A major question mark remains as to how the country can swiftly resolve this crisis, our correspondent says.
Mr Ravalomanana is appealing to the international community for assistance but the current government is unlikely to welcome outside interference, having been universally condemned by foreign countries, including former colonial power France and the US.