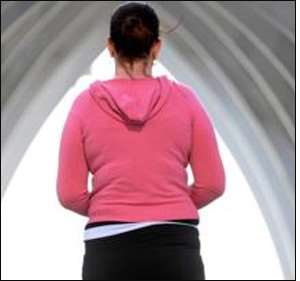 TRAPPED: Young mum was raped A PETRIFIED young mum who fell prey to evil loan shark Paul Nicholson last night told how he viciously RAPED her when she couldn't pay him money.
Trapped in debt that spiralled to a massive £19,000 after she borrowed just £500, the desperate 24-year-old was urged to pay some of it off by working for him as a PROSTITUTE.
And crippled with fear, she was helpless to stop swaggering bully Nicholson GROPING her, making her STRIP naked for photos and then FORCING her to perform a sex act on him.
Speaking for the first time of her ordeal, the rape victim fought back tears as she told the News of the World:
"There was nothing I could do to stop him. I was in so much debt I felt like he owned me. After that there was nothing else he could do to me — but I was petrified of what he could do to my family."
The mum-of-two was a victim of Nicholson's reign of terror, which ended on Friday when he was jailed indefinitely for rape and 14 counts of blackmail at Warrington Crown Court.
His girlfriend, 38-year-old Tracey Rogers helped run his wicked racket and was sentenced to four years for blackmail and illegal money lending.
Falcon Securities, the firm owned by Nicholson, 39, targeted poor estates and families, charging exorbitant interest rates of up to 125 PER CENT.
He used the profits to buy a £1million house near the home of Take That's Gary Barlow in Delamere, Cheshire.
The former nightclub bouncer, known as Nico, commanded a crew of vicious thugs who used extreme violence to extort repayments.
Armed with baseball bats, knives, machetes and knuckledusters, they acted as his "collectors" threatening up to 800 victims.
For some, the fear was just too much. Tragic Brian Shields, 22, from Runcorn, killed himself after his £300 loan soared to £3,400 in just 12 weeks.
Women who were unable to keep up with the ridiculous rates were given the option of "payment in kind" — sexual favours to Nico.
His rape victim, an unemployed care worker, soon came to fear every Friday, collection day. In 2006, she'd borrowed just £500 off the loan shark to pay for a family holiday.
Bills
But that soon rocketed into thousands after Nicholson imposed rates of 90 per cent and countless £10 fines for missing payments.
She said: "It started off innocently. I heard of Nico through a friend. The loan was written up on formal agreements so I had no reason to be suspicious.
"I thought it was all above board. Even though his rates were really high, I could afford to pay it back at £25 a week. I only went to him because I couldn't get a loan from the banks."
But when she fell behind with payments, manipulative Nicholson convinced her to "re-spin" her debt into a new one of £1,500 — which meant bigger weekly repayments of £30.
She added: "I was barely surviving on benefits of £150 a week. Most of that went on bills while the rest was spent on food.