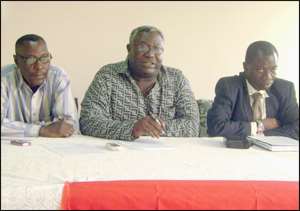 Civil servants at the meeting CIVIL SERVANTS across the country have indicated they are not happy with the manner in which the Controller & Accountant General has been making sporadic and uninformed deductions from their salaries since last year.
At a meeting with journalists Wednesday in Accra, executive council members of the Greater Accra Civil Servants Association noted that if the Controller & Accountant General does not rectify the anomaly and offer any tangible explanation soon, they will be forced to lay down their tools and embark on a demonstration to the Castle, Osu, where they will present their concerns to President John Atta Mills.
"It has come to the notice of the Regional Council of the Greater Accra Civil Servants Association that the Controller and the Accountant General's Department (CAGD) had made some recoveries of overpayment against the March 2009 salaries and the January – June 2008 salary arrears.
"We recall that at a meeting between the management of CAGD and Executives of the Civil Servants Association (CSA) held on Monday March 2, 2009, at the auditorium of the association, agreements reached did not include any recoveries of overpayment of salaries," J.L.A. Quarshie, Greater Accra Regional Secretary of CSA, said.
According to him, all recoveries relating to overpayments were done as far back as October 2008 and therefore, the association does not understand why the CAGD could continue to make deductions at a time when civil servants were expecting the payment of a backlog of salary arrears to them.
"The massive uproar which erupted among the rank the file on account of these unexplained deductions is still very fresh on our minds and would therefore wish to caution the Controller & Accountant General to cancel the intended recoveries, in order to forestall the imminent unrest," he stated further.
Samuel Collison, a member of the regional executive council, speaking to CITY & BUSINESS GUIDE said if there were any deductions to be made, civil servants expected that this should have taken place in November and December 2008 or probably in January this year.
"We were expecting the Controller & Accountant General to pay us our January to June 2008 salary arrears in January. We even perceived the failure to effect those payments were due to the payment of ex-gratia awards to former ministers and MPs under the previous government but the CAGD mentioned to us that it was responsible for the mess."
He added that on many occasions civil servants have been told by the CAGD that the salary payment machine was in the process of automatically cleaning its system hence the problem.
From January 2008, government increased the salary of civil servants causing a gradual payment of salaries from January to June 2008. The civil servants also declared that there have been fluctuations in their salary levels since a year ago leaving them in a state of uncertainty as to what their actual salaries are.
By Samuel Boadi