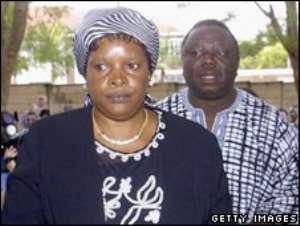 The wife of Zimbabwe's Prime Minister Morgan Tsvangirai has been killed in a car crash, according to reports.
Susan Tsvangirai was travelling with her husband south of the capital, Harare, when the crash happened. Party sources say his injuries are slight.
Mr Tsvangirai, leader of the Movement for Democratic Change (MDC) party, formed a unity government with President Robert Mugabe last month.
The two had been long-time rivals before agreeing a power-sharing deal.
MDC spokesman Nelson Chamisa told Reuters news agency that Mr Tsvangirai was not in a critical condition.
"We have just heard that there was an accident of sorts involving the president of the party. Injuries, yes, but not critical condition, we are still assessing the actual condition," he said.
Map
The prime minister is said to have been on his way to his rural home at the start of the weekend when his vehicle was involved in a crash near Beatrice.
A second MDC spokesman, James Maridadi, told the Associated Press news agency that the car had been in collision with a lorry. The car was also carrying an aide, he said.
The prime minister was apparently not seriously hurt but was immediately transferred to a clinic in the capital, Harare, the BBC's Peter Biles in Johannesburg says.
The crash comes just two days after Mr Tsvangirai delivered his maiden speech to parliament after being sworn in as prime minister in Zimbabwe's power-sharing government, our correspondent adds.
He and his wife Susan, who were married in 1978, had six children.
The BBC News website's Africa editor Jo Winter says Mrs Tsvangirai always stayed out of the limelight but was equally a source of strength to her husband, when in the past he was charged with treason and assaulted for his opposition to Mr Mugabe.
She accompanied him to court on several occasions.
There are no dual carriageways on Harare's inter-city roads, making overtaking dangerous, our correspondent adds.
Traffic accidents are common, often because of speeding and drink-driving.