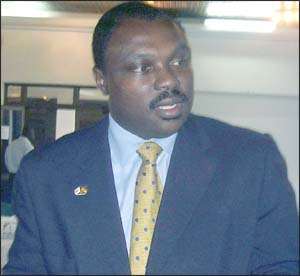 Ahomka-Lindsay - GIPC Boss Ghanaian investors will soon be assisted to acquire equipment and machinery to expand their businesses.
This is the objective of the first-ever Ghana Leasing Forum to be organized by the Ghana Investment Promotion Centre (GIPC) and the International Finance Corporation (IFC) on Wednesday 25th and Thursday 26th February 2009 at the La Palm Royal Beach Hotel.
The Ghana Leasing Forum will promote the role of leasing as an alternative financing mechanism for businesses in Ghana towards private sector development. The event to be opened by His Excellency Professor John Evans Atta Mills, President of the Republic of Ghana, supports government's efforts to attract targeted investments into the country and help local entrepreneurs start new businesses or expand their existing ones.
Investors in all the seven key sectors of the economy namely the petroleum and mining services, tourism, infrastructure, agriculture and agri-business, ICT, manufacturing and financial services are set to enjoy a boost in their capital and efficiency in their operations.
The event will bring together policy makers, captains of industry, leasing companies, small and medium scale enterprises from all sectors of the economy, financiers and key regulators.
It will provide a maiden opportunity for stakeholders to interact and discuss policy issues and opportunities associated with Leasing as an alternative financing source.
Key beneficiaries include hotels and restaurants, tour operators, transport operators, building contractors, civil and electrical engineers, banking and non-bank financial institutions, communication and business centres, manufacturers, and agro-processing companies.
Ms Imoni Akpofure, Country Manager of IFC said in a statement that "the leasing industry in Ghana is currently witnessing unprecedented growth. Figures from IFC show that the value of new leases increased from nearly USD 31.5 million in 2006 to over $ 93 million in 2007, representing nearly a 200 percent increase.
"The number of new lease contracts signed increased from 536 in 2006 to 1,381 in 2007, representing an increase of 158.65 percent.  Total market value also increased from nearly $ 51 million to over $107 million. This is an indication of huge market potentials and opportunities for the leasing business in Ghana."
Robert Ahomka-Lindsay, CEO of GIPC in a press statement issued by his outfit noted that "the forthcoming Ghana Leasing Forum will explore future developments in the sector including sources, which sectors and industries will benefit from and what the new corporate strategies should be to help investors in Ghana. Particular emphasis will be placed on the new opportunities and challenges for investors, evolution of global value chains and business linkages, and how local entrepreneurs can grow their companies by taking advantage of leasing their equipment and machinery which form a substantial part of their capital."
From Business Desk