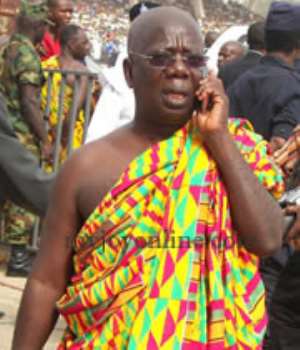 The NPP has officially backed out of all activities to do with the ongoing transition efforts, former Chief of Staff, Kwadwo Mpiani has said.
Mr. Mpiani among other things accused the government transition team led by Mr. P.V. Obeng of painting a bad picture of the former government.
He has therefore entreated Ghanaians to treat the final report that would emerge from the government's transition team as purely one-sided.
At a press conference in Accra, Mr. Mpiani who is also the leader of the NPP side of the transition team catalogued a myriad of accusations which he said were tactfully plotted to paint the party black.
Joy News' Bernard Saibu quoted Mr. Mpiani as citing the summoning of the Auditor General, Edward Dua-Agyemang to a live media presentation of the [email protected] audited accounts presentation which according to him flouted the ethics of accounting procedures, as well as the leaking of what he said were half truths by the government's transition team to the media as clear cases.
The Ghanaian Times newspaper had reported of 39 vehicles which were not accounted for as well as reports of some vehicles which were alleged to have gone missing from workshops.
These he said were part of a grand agenda to demonize the NPP.
Mr. Mpiani also lamented the hounding of past government officials by operatives of the BNI.
The final report of the transition team is to be presented to the president, but Mpiani said inputs of the NPP were not taken into consideration in the drafting of the report.
The transition teams tasked with the responsibility of transferring state assets and documents from the past government to the present have been fraught with suspicions, accusations and counter-accusation.
Mr. Don Arthur, Chairman of the assets committee of the transition team has consistently complained of a lukewarm attitude by past government officials in handing over vehicles and other assets in their custody.
But officials of the past administration have rebutted those claims and have rather accused the transition team of harassing them, describing it as typical of what happens during coup d'etats.
Story by Nathan Gadugah